"I'm a voracious reader, and I can give you a long list of books that should've been bestsellers but they are not,because no one marketed them." — Amish Tripathi
Before he was known as the fastest selling author in the history of Indian publishing, Amish Tripathi was a marketing and product manager in the life insurance sector. He even turned into an atheist during the Bombay riots of 1992-93, but his faith in God was restored during the time he researched on the Shiva Trilogy. From keeping aside his wish to become a historian, to taking up science and finance to earn a better living, Tripathi had been a practical person throughout his life — even when it came to writing and promoting his philosophical books, that went on to become The Immortals of Meluha, The Secret of the Nagas, and The Oath of the Vayuputras
Aspired to Be a Historian but Didn't See It as a Wise Career Option
Tripathi was born in a very religious family, with his grandfather being a priest and a mathematics and physics teacher at the Banaras Hindu University (BHU). Tripathi expanded his knowledge of religion and Hindu theology with the help of his religious parents and grandfather. He wanted to be a historian but soon realized that it'd be a career filled with struggle. Therefore, Tripathi dreamed of being a scientist or an industrialist.
Graduated in Mathematics and Then Went to IIM Calcutta for an MBA
Worked in Finance for Fourteen Years as Marketing and Product Manager
Between the time Tripathi gave up being a historian to becoming a full-time author in 2014, he had been working the the field of finance at multiple companies, most of which were of the IDBI Group. The foundation of the smart marketing strategies Tripathi used to promote his books was laid during his time as a marketing and product management professional.
The books in the Shiva Trilogy series by Amish Tripathi (2010, 2011, 2013)
Regained His Faith in God While Researching on a Philosophical Thesis
Tripathi had been an atheist and there were times when he didn't step into a temple that he visited with his wife. This behavior started to change when Tripathi was encouraged by his family to write a philosophical thesis on the nature of Evil. While Tripathi wanted to turn it into a book purely based on philosophy, his brother and sister-in-law advised him to write an adventure story and make philosophy a part of it. Eventually, the protagonist became none other than the "destroyer of evil" i.e. Lord Shiva.
Converted the Initially Planned Philosophical Thesis into the Shiva Trilogy
In 2004, a show on the History Channel initiated a philosophical debate among Tripathi and his family members. They discovered a contradiction in the consideration of gods and demons between the Indian and Persian religious mythologies. This clash of concepts of Good vs. Evil inspired Tripathi's interest to explore the true nature of Evil. Initially planned as a single piece, the 1,000 to 1,200 page megabook was converted into a trilogy for the benefit of the readers.
Devoted 4-5 Years to Writing His First Novel; Also Wrote in Traffic Jams
While Tripathi worked as a marketing and product manager during the day, he turned author at night. He stopped pursuing almost everything else that he used to do. A major hobby Tripathi compromised on was reading books. He also stopped watching TV and movies, and kept his time spent on meeting friends to the minimum. Therefore, Tripathi did nothing besides working at office, spending time with his family, and writing the novel.
A screengrab from a promotional video on the Shiva Trilogy (courtesy: YouTube channel Author Amish)
Continued with His Finance Job While Writing the First Two Books
Besides advising aspiring authors to be deeply involved in the marketing of their books, Tripathi always has two more advices. The first one is to not consider writing as a career option that can always make you money. Tripathi believed that it's always good to have a job on the side that can pay the bills. He did the same for himself too, continuing with his banking job until it was time that his books could start driving his economic engine.
Got Rejected by Many Publishers; One Asked Him to Drop All Philosophies
The second advice that Tripathi has for authors is to write for yourself — not for the publisher, or the critics or even the readers. With the finance job that Tripathi had by his side, he didn't have to rely on his writing to make him money. It was a liberating experience to write whatever he wanted to, and even say no to any publisher who wanted to change something in his books. In fact, Tripathi did turn down a publisher who was ready to go ahead if all the philosophies of the Shiva Trilogy were dropped. His first book was rejected by more than 20 publishers, most of whom felt that such books won't appeal to the main market i.e. India's youth.
Invested a Lot of Time and Money into Marketing the Shiva Trilogy
The marketing of the Shiva Trilogy is perhaps the most important thing that worked for Tripathi's success as an author. For his first book, Tripathi persuaded bookstore owners to give away printed sample copies of the first chapter for free. He also uploaded a trailer film on YouTube and made presentations to big retail chains. For promoting his second book, Tripathi screened the high quality video trailers at multiplexes before the starting of high-budget movies. The final book of the trilogy saw an original soundtrack being made, the first ever for a book series, with the album featuring songs by various popular artists such as Palash Sen, Sonu Nigam and Taufiq Qureshi.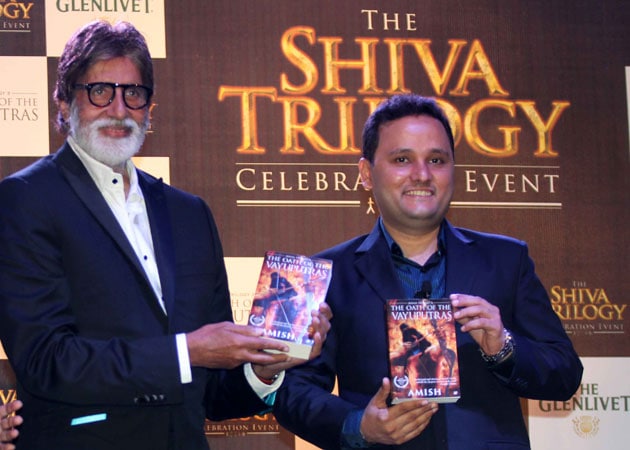 Amitabh Bachchan with Amish Tripathi at the success party of the Shiva Trilogy (2013)
Became the Fastest-Selling Author in the History of Indian Publishing
Amish Tripathi believes that he had interpreted Lord Shiva's story with devotion and respect, and thus the trilogy has not been seen as controversial. To his surprise, he was even advised to "create a controversy" so as to create more buzz and eventually boost sales. Anyway, Tripathi's first book entered the top seller chart within a week and the Shiva Trilogy made him India's fastest-selling author, with more than 2.5 million books sold.
Ranked by Forbes Among the Top 100 Celebrities in India from 2012-2015
Amish Tripathi was selected for the prestigious Eisenhower Fellow programme, and famous Indian film director Shekhar Kapur described him as "India's first literary popstar." Karan Johar's
Dharma Productions
bought the movie rights of his debut novel,
The Immortals of Meluha
, and Tata Group's publishing firm Westland paid Tripathi $1 million in advance for his new book series on Ram Chandra. Forbes India ranked Tripathi among the Top 100 Celebrities in India for four years in a row, in 2012, 2013, 2014 and 2015.
What We Can Learn from Amish Tripathi's Career Story
The important takeaways from Amish Tripathi's story can be the essence of writing with your soul, the importance of having a job while getting started with writing, and the realization that any book is almost as good as the marketing strategy behind it. Tripathi never really wanted to be a writer, did not initially plan to write a book on Lord Shiva, and was even an atheist in his 20s. However, his life had different plans — as is the case with our life too. We just have to listen to the signals and realize that it's time to give our soul a voice, with the gift of writing.