As we are moving into the future of sustainability and the usage and need of energy-efficient resources, landscape architecture has become the solution that holds the key to the future of design.
Landscape Architecture is the branch of architecture that involves the designing, planning and management of public places, landmarks and parks in our environment. The scope of landscape architecture involves planning and development of urban and rural areas, sites, environment, and real-estate and green infrastructure.

Who is a Landscape Architect?
Landscape architects are the lead professionals and specialists that plan, design, create and manage landscapes and open places in both natural and built environments. These architects in recent times fuse science and art, have a vision and understand how the environment is working and evaluate how to deal with complex relationships between natural and man-made environments.
These professionals should be an expert in subjects like science, art, engineering, geography, design, social sciences, technology, politics, history, project management and contract law.

Duties of Landscape Architects
Understand the needs of the landscape project by having meetings with clients, engineers and building architects.
Conduct preliminary research about the site like soil, ecology, buildings, roads and heritage.
Assessment of a site to determine whether it meets the client's requirements.
Consider the opinions of local residents, potential users and people who have an interest in the landscape project.
Preparation of the plan's graphic representation using Computer-aided design and drafting (CADD) software.
Selecting proper landscape tools and materials and preparation of site plans, specifications and cost estimates.
Constantly keep tracks of the project's progress so that it is proceeding according to plans.
Evaluation of environmental reports on the land conditions such as drainage and energy usage.
To get new clients and for generation of business opportunities, make presentations and do marketing.
Presentation of proposals to clients, clear project's enquires and negotiation of any changes to the final plan.
Maintain contact and coordination with suppliers and manufacturers.
Go for regular site visits and ensure that the deadlines are met.
Monitoring and checking the work progress of the site (supervisory work done by landscape managers.
Authorization of payment on successful completion of the project work.
A landscape architect may design spaces such as Parks, College campuses, Recreational facilities, Businesses, Private homes, residential developments, cemeteries, resorts, and commercial centres, transportation facilities, roads and highways, golf courses, urban regeneration, townscapes, streetscapes, waterfront developments and public gardens.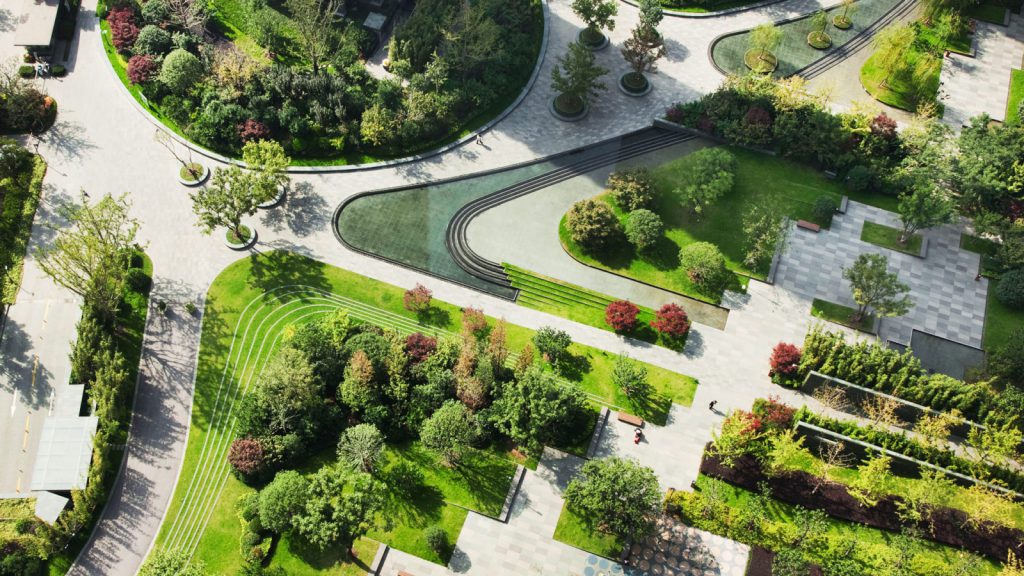 Types of Landscape Architecture
There are 5 main areas of Landscape Architecture where one can work in:
Landscape design
Landscape management
Landscape planning
Landscape science
Urban design
For an entry into this profession, a bachelor or master degree is required.
Bachelor of Landscape Architecture (BLA) or Bachelor of Science in Landscape Architecture (BLSA).
Pursue MA or MS or PhD in Landscape Architecture from foreign universities. After getting qualified, these professionals will get hired in public, private and government organizations across the world. 

Top Colleges in India offering Landscape Architecture
Amity Institute of Architecture and Planning
CCLS College of Architecture
Bhanuben Nanavati College of Architecture for Women
Best Universities that offer Landscape Architecture
Mesa Community College, USA
Ball State University, USA
TAFE SA, Australia University of Worcester,
UK Newcastle University, UK

Different job titles for a Landscape Architect
Site Designer
Architect Designer
Architect Manager
Landscape Consultant
Landscape Architect Supervisor
Landscape architects may be hired by the government, self-employed or they may work in organizations offering landscaping, architecture and engineering. The average salary is based on the level of expertise, industry and geographical location for a landscape architect.
The median range salary is $64,180 annually or $30.86 on an hourly basis.
The job opportunities for landscape architects are growing at a rate of 14% which is more than other occupations average growth. This growth is contributed largely due to the planning and development of the latest projects on a global scale and also redesigning and development of preexisting landscapes to accommodate the ever-increasing growth. The projects are mainly for commercial, industrial and residential construction that is expected to hike the employment growth. The demand for services of Landscape architects is rising due to environmental concerns and sustainably designed buildings and open spaces.
Prevention of waterway pollution and constant efforts for conservation of water will continue in areas prone to drought specifically. Here the landscape architects are supposed to design plans for the management of storm-water runoff. Improving and the latest technologies are expected to increase the productivity of landscape architects.