Why Study in New Zealand?
Students who have studied in New Zealand are earning a reputation of being called innovative thinkers and are being addressed as 'The New World Class. It has a very progressive education system which is highly recognized and appreciated globally.One of the best part studying in New Zealand is that there are many state-of-the-art facilities, and with many institutions spearheading several new technological developments, students have access to more advanced technology than they could wish for.
Counsellors for Abroad Studies in New Zealand 
Overview of Education System for New Zealand
New Zealand has become a very popular destination for students and the degrees are internationally recognized.

New Zealand has a variety of options & students can choose from Bachelor's, Masters, Diploma or Certificate programs.

The duration of UG programs is 3-4 years & PG course is 1-2 years.

The tuition fees are around Rs. 10 lakhs- Rs. 12 Lakhs per year.

The cost of living is Rs. 7 lakhs per year including accommodation, meals and transportation.

Post Study Visa: One year of Job search visa

Major intakes: February and July
Admission Requirements in New Zealand
Most Universities do not need any GRE or SAT tests for admissions. GMAT may be needed for some MBA programs.

IELTS requirements: 6.5 for Masters; 6.0 for Bachelors with pre-sessional English courses for students who don't qualify.

Students who score a 70 percent & above in English in class 12th can also get a waiver for IELTS.

LOR from teachers/professors or employers.

A personal Statement indicating your purpose of applying to the University.

Well balanced extra-curricular activities, Internships, and Community Service. Also a crisp resume.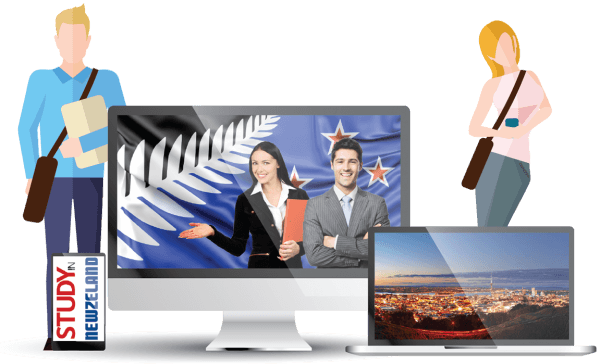 Top Universities and Colleges of New Zealand
Steps to Apply for Study in New Zealand