Mentorship Counselling Plan For 11th
Let's start your career journey here at CareerGuide !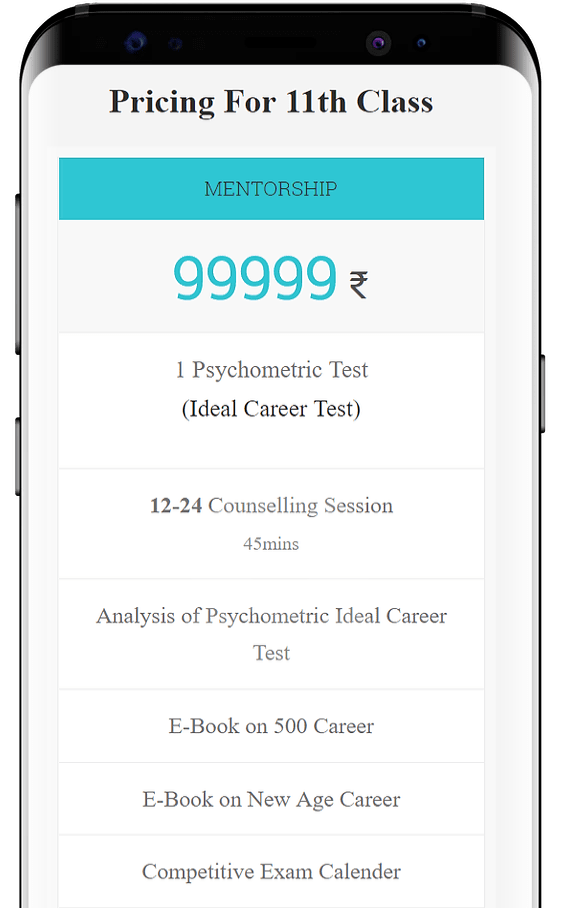 Career Mentorship Is The key To Smart & Clear Thoughts In Students & It Is Great Time To Engage 11th Class Students In Career Information.
Psychometric Test – Ideal Career Test
Bi-Monthly Calls With Mentor
Analysis of Psychometric Ideal Career Test
College Enrollment & Shortlisting
Steps To Apply For Mentorship Plan For 11th
Curriculum For Mentorship Plan
FAQs For Mentorship Counselling Plan For 11th
How should I go about enrolling in for 11th class Mentorship counselling plan ?
You can select the package of mentorship for Rs. 99999 11th class and follow the steps of checkout and registration and payment. Payment can be made via any mode – credit card, debit card, netbanking etc. Your payment transaction is highly secure and safe. Soon you make payment – you will be confirmed via your bank as well as CareerGuide via email receipt and sms alert. With mentorship plan you get access to everything included in Basic and Advance along side 12 sessions via video calls and chats with progress tracking and complete all round career planning of the students. Incase any assistance is required- do write to customercare@careerguide.com or call 8800442358
What is the duration for mentorship for 11th class students ?
The duration of mentorship is for 1 year from date of enrollment i.e till the students is in 11th class.

What is mode of delivery of mentorship for every session ?
You have flexibility to choose your delivery mode for mentorship session. It can be through video, call , chat or watsapp. We try to make it flexible for students and parents to ensure mentors are reachable and approachable in most easy and convenient manner.
Which payment methods do you accept?
We accept all online payments methods – Credit & Debit cards . We also have options through net banking and cash transfers. You can always reach out to our support team to understand this more at 8800442358
How is year round mentorship is done for 11th class students?
Mentorship is all about overall development and confidence building and career planning of the students. A 11th class students undergoing mentorship will be exposed to various knowledge, activity and practical work life which is usually not given in schools, colleges or in tutions. Various important 21st century skills are inculcated in the students through various video talks, sessions and interactive assignments. 12 sessions will be done with students and parents where actionable assignments are shared. Year around mentorship will focus on building important life skills – initiativeness, communication, Confidence, Overall Personality Team work , motivation and self management.
Who are mentors for the mentorship plan for 11th class students?
We match you with certified career counsellors as mentor who are available to assist you round the year in development of overall profile of the students.
Do you offer discounts for meritorious students of 11th class on mentorship plan ?
We know every child is super talented and their talent needs to be nourished. If you are in class 11th or your child is in class 11th we can extend merit discounts. Pls reach out to our support team at customercare@careerguide.com or call 8800442358
Do you have EMI options for pricing package on mentorship for 11th Class ?
Yes we do have EMI options available. A small interest might be added by your banking partners for it. Pls reach out to out support team to understand about EMI schemes at customercare@careerguide.com or call 8800442358