Why study in Australia?
Australia is fast becoming a preferred destination in terms of education among Indian students. Currently, this "land of kangaroos" attracts the third largest number of international students in the English-speaking world after the US and the UK.
In some countries Australia is the first choice of study destination. Australia is a dynamic, vibrant country with energetic, friendly people. Multicultural Australia is English-speaking and a safe and friendly society in which students can learn and travel freely.
Counsellors for Abroad Studies in Australia 
Overview of Education System for Australia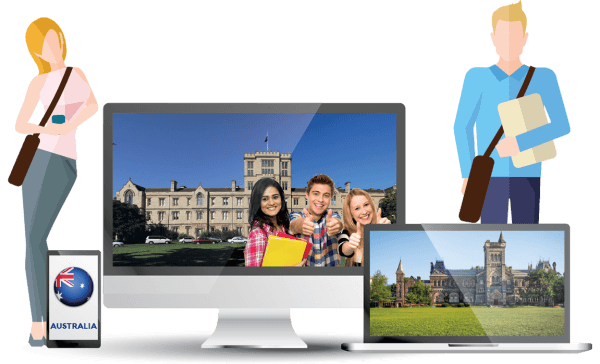 The 'Group of Eight' top-ranked universities in Australia are ranked among the world's Top 100 Universities.

Duration of UG programs is 3-4 years & PG courses are 1-2 years.

The tuition fees can range from Rs. 8 – Rs. 15 Lakhs per year.

The living expenses are about Rs. 10 Lakhs per year.

Students can work for 20 hours part time per week and full time during vacations.

Post Study Visa: 2 Years Work Permit after program of 2 years

Major intakes: February and July
Admission Requirements in Australia
Most Universities do not need any GRE or SAT tests for admissions. GMAT is needed for MBA to Top Universities

IELTS Requirements: 6 bands for UG & 6.5 for PG required. ELICOS courses are available for students who do not meet the English Language requirements.

LOR from teachers/professors or employers.

A personal Statement indicating your purpose of applying to the University.

Well balanced extra-curricular activities, Internships, and Community Service. Also a crisp resume.
Top Universities and Colleges of Australia
Steps to Apply for Study in Australia