Advance Counselling Plan For 12th
Let's start your career journey here at CareerGuide !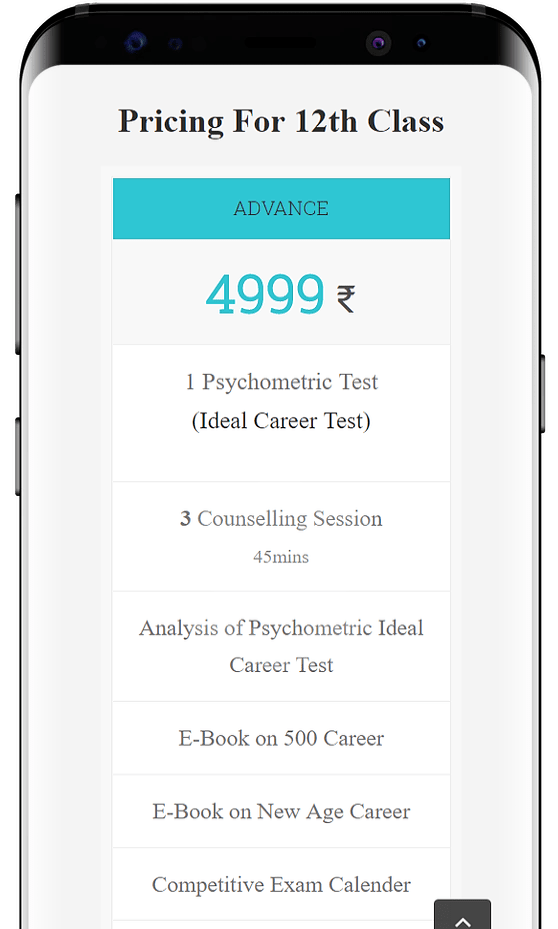 Career exploration is the key to smart & clear thoughts in students & it is great time to engage 12th class students in career information.
Access to psychometric test and get instant report
45 mins session with career counsellor over voice
Get help in entrance exam and college admission
Pay online and access immediately
Parent interactions and actionable outcomes from session
Steps to Apply for Advance Plan for 12th
Trusted by Lakhs of 12th Class Students and their Parents
College admission is dreadful thing. So much of pressure. All pressure was taken away from me when I got my Ideal College List prepared and got all entrance date sorted and applied. Thank you for all those multiple sessions.
My son and my niece both of them are in 12th. Our house was always in tension zone. We had very little idea about admission process to colleges. CareerGuide came to our rescue. My son and my niece both are studying in super nice college and all credit goes to counsellors from CareerGuide.
FAQs for Advance Counselling Plan for 12th
How should I go about enrolling in for 12th class Advance counselling plan ?
You can select the package of Rs. 4999 for 12th class and follow the steps of checkout and registration and payment. Payment can be made via any mode – credit card, debit card, netbanking, wallets etc. Your payment transaction is highly secure and safe. Soon you make payment – you will be confirmed via your bank as well as CareerGuide via email receipt and sms alert. With Basic plan for 9th your are eligible for psychometric test, 1 session with counsellor to discuss report and ebooks. Post the payment  assessment and session can be taken up any time as per your convenient schedule. Incase any assistance is required- do write to customercare@careerguide.com or call 8800442358
The advance plan for 12th class counselling includes e-books on New Age Careers and Self               counselling guide – How will I get access to it ?
Once you enroll and make payment for basic plan fees of Rs. 1999 – CareerGuide dashboard gives you access to a psychometric test and three 45 minutes session. Post the completion of assessment and counselling session – ebooks are sent on your email. If you incase miss receiving email on ebook do write to customercare@careerguide.com or call 8800442358
Do you have EMI options for pricing package on advance plan of career counselling for 12th Class?
Yes we do have EMI options available. A small interest might be added by your banking partners for it. Pls reach out to out support team to understand about EMI schemes at customercare@careerguide.com or call 8800442358
The advance plan for 12th class counselling includes three 45 minutes interaction with career           counsellor – how does that work ?
Once advance plan fees of Rs. 4999  has been paid we recommend child to take psychometric assessment. The psychometric report is generated real time.  Post that in regular interval of 3 months 3 counselling session will be scheduled between a career counsellor you and your child . Career Counsellor in these 45 mins session explains the career report , explains its options, recommendation and shares actionable points for increasing career awareness. Discussion around stud habit, time table, time management etc is also taken up during the sessions. The session is done on phone call. At some location we have chat and video call options too. During the session Career Counsellor answers any questions put forth by students and  parents. The maximum duration of counselling session is 45 minutes. We give live recording too of the session which can be referred later on. Incase any assistance is required for scheduling the counselling session – do write to customercare@careerguide.com or call 8800442358
The Advance plan for 12th class counselling includes a psychometric test – how does it work ?
Once advance plan fees has been paid – you will be directed to take up psychometric test named Skill Based Career Test. We suggest that parents should not assist child while responding to assessment questions or be around child to observe his/her responses. This is to avoid any possible influence on the child during assessment.  The assessment will take less than 30 minutes to complete and will give 4-page psychometric report. Report will be given to you in real time via email, SMS and on your CareerGuide dashboard. Spend some time on report , read it and schedule your session with a career counsellor. Incase any assistance is required- do write to customercare@careerguide.com or call 8800442358
Can I upgrade my pricing plan from Advance counselling for 12th Class to a higher plan say                Mentorship plan for 12th class students ?  
Yes, you can always upgrade from Advance Plan to next plans by just paying the differential amount. The gradual upgradation is something we will highly suggest as it will make your child more informed, sharp and focussed.
Do you offer discounts for meritorious students of 12th class on  Advance plan of career counselling?
We know every child is super talented and their talent needs to be nourished. If you are in class 12th or your child is in class 12th we can extend merit discounts. Pls reach out to our support team at customercare@careerguide.com or call 8800442358
Which payment methods do you accept?
We accept all online payments methods – Credit & Debit cards  . We also accept wallet payments through Paytm, Watsapp payment, google pay and other mode of payments. We also have options through net banking and cash transfers. You can always reach out to our support team to understand this more at 8800442358