USA is called as land of opportunities. There are more than 950,000 international students studying in the U.S. There has been a dramatic increase in the enrollment over the last 15 years, with many students coming to the country for short courses and undergraduate programs. Place where everyone gets enough opportunity to explore his or her possibilities to grow further in life. Immigrants have always been enthusiastic and adventurous to find out new avenues in foreign land.
Counsellors for Abroad Studies in U.S.A
Overview of Education System for U.S.A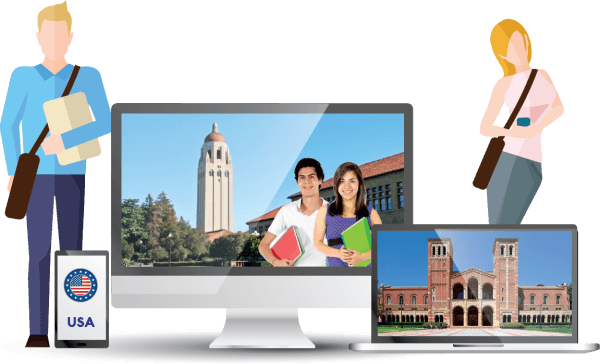 USA Universities are highly ranked and among the Top 100 Universities of the world, majority are US Universities.

Most Bachelors' programs are for 4 years and Master's programs are of 1.5-2 years.

The tuition Fees can range from Rs.12 -30 Lacs per year.

The living expenses range from Rs. 10-15 Lakhs per year.

Students can work for 20 hours part time per week and full time during vacations.

US Universities are also very liberal with scholarships.

Students can opt for 1-3 years of Optional Practical Training (stay back option) after graduation.

Major Intakes: September and Jan
Admission Requirements in U.S.A
A well balanced SAT/GRE/GMAT score

An English proficiency examination like: IELTS OR TOEFL with a satisfactory score.

For IELTS a minimum of 6.5 score is usually expected and for TOEFL a score above 80.

LOR from teachers/professors or employers

A Statement of purpose of applying to the University.

Additional Essays revealing your analytical & thinking ability.

Well balanced extra-curricular activities, Internships and Community Service. Also a crisp resume.
Top Universities and Colleges of U.S.A
Steps to Apply for Study in U.S.A