Universities in Europe have long been known for their high academic standards, their cutting-edge research and their value for money. Thirty-one of the world's top 100 universities, as listed by The Times in its 2012 World University Rankings, are located in Europe, making it the second biggest bloc of universities after the USA. In all, there are over 4000 Higher Education Institutions in Europe offering a wide range of courses at Bachelor, Masters and Doctorate level. 
Counsellors for Abroad Studies in Europe
Overview of Education System for Europe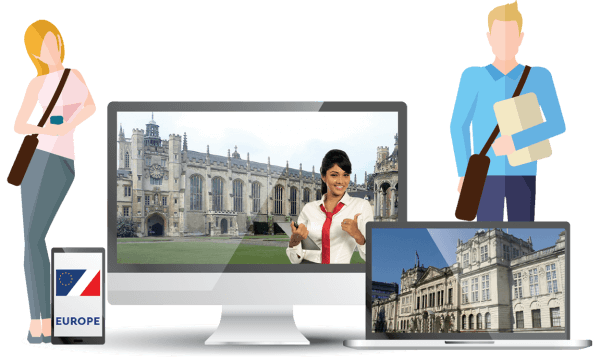 Europe has become an increasingly popular choice for students especially countries like France, Germany, Switzerland, Denmark, Italy etc.

France is a leading provider in education and is a number 1 tourist destination. It is very famous for culinary, fashion, arts and business courses.

Switzerland has the worlds best system of Hotel and Tourism Management Education and provides a lot of paid internship as a part of the course.

Denmark is ranked 10th as a Best Country in the World for Living and is famous for science and technology courses.

Italy is a hub of fashion and business and provides students with excellent opportunities.

Germany is a Hub for Engineers, and has one of the lowest tuition fees across Europe.

Though most schools in Europe have programs that are taught in English, a basic level attainment in the local language is highly suggested.

Emerging Sectors : Communications, IT, Engineering ,fashion and Culinary.
Admission Requirements in Europe
Most Universities do not need any GRE or SAT tests for admissions. GMAT may be needed for some MBA programs.

IELTS requirements: 6.5 for Masters; 6.0 for Bachelors with pre-sessional English courses for students who don't qualify.

Students who score a 70 percent above in English in class 12th can also get a waiver for IELTS.

LOR from teachers/professors or employers

A Statement of purpose of applying to the University.

Well balanced extra-curricular activities, Internships, and Community Service. Also a crisp resume.
Top Universities and Colleges of Europe
Steps to Apply for Study in Europe