Dates for the September 2022 phase of the MAT 2022 exams have been announced, and registration is now open. Candidates can submit their online MAT applications for the phase taking place in August- September 2022. The MAT PBT exam will take place on September 4 for the September 2022 phase, while the MAT CBT exam will take place on September 18. The dates of the MAT IBTs are August 28, September 3, 10, and 11.
MAT 2022 Exam: What Is It?
For admission to MBA/PGDM programmes, the All India Management Association (AIMA) administers the Management Aptitude Test, also known as the MAT. Multiple times a year, the exam is given in four phases: February, May, September, and December. Candidates who meet the requirements may be admitted to more than 800 business schools that accept the MAT.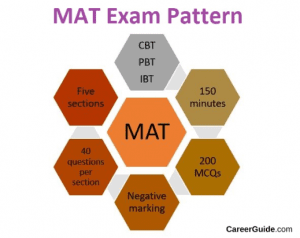 The MAT 2022 exam is offered in three different formats: paper-based (PBT), computer-based (CBT), and remotely proctored (IBT). According to their preferences, candidates can select any mode in which to take the exam. Exam dates vary, but fees, exam formats, and material are all the same for all three modalities.
The MAT exam can be taken as:
• Internet-based testing (IBT)
• double Internet-based testing (IBT)
• paper-based testing (PBT)
• computer-based testing (CBT)
• Internet-based testing (IBT+PBT)
• computer-based testing (PBT+CBT) are all forms of testing.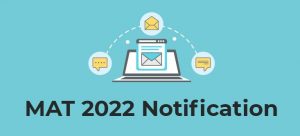 Most recent updates for MAT 2022:
• Dates for the September 2022 phase of the MAT exam are released on July 1, 2022, and registration is open.
Exam highlights for MAT 2022
The following are the main points of the MAT 2022 exam that students need to be aware of before applying for it:
Features

Details

MAT Full
Form

Management Aptitude Test

Conducting
Body

All India Management Association
(AIMA)

Exam Level

National

Exam
Frequency

Multiple times a year

Exam Mode

CBT, PBT and IBT

Exam
Duration

2 hours and 30 minutes

Language

English

MAT Exam
Fees

INR 1,850 (INR 1,100 additionally
for second test mode)

Exam
Purpose

Admission to 800+ MBA
Colleges in India (approx.)

Number of
applicants

18,000 to 20,000 (approx.)
MAT 2022 Eligibility Requirements
These are the basic requirements for taking the MAT 2022 exam:
• Candidates must have graduated from an accredited university with a degree in any discipline or its equivalent.
• Students in their final year of college may also apply for the MAT.
• Candidates can also apply for the MAT 2022 exam if they have earned a professional degree such a CA, CS, or ICWA.
Important Dates for MAT 2022: September CBT/PBT
The CBT and PBT dates for the MAT 2022 in September are listed below.
| MAT 2022 Events  | MAT 2022 Dates |
| --- | --- |
| MAT registration deadline for PBT | 29-Aug-2022 |
| MAT admit card for PBT | 30-Aug-2022 |
| MAT PBT date | 04-Sep-2022 |
| MAT registration deadline for CBT | 12-Sep-2022 |
| MAT admit card for CBT | 13-Sep-2022 |
| MAT CBT date | 18-Sep-2022 |
MAT 2022 Registration
The MAT 2022 application procedure is the same for the PBT, CBT, and IBT exam modalities. Filling out the application form is done online. By paying the exam cost of INR 1,850, candidates can submit their MAT application form for their desired exam phase on the AIMA MAT exam website. Check out the MAT application procedure below:
• Launch a new browser and go to the AIMA-MAT website
• Visit official website and select the "Fresh Candidate to Create Log In" button.
• Name, birthdate, email address, mobile number, and password must be entered.
• Complete the MAT 2022 exam application form with the necessary details.
• Choose your desired test format (CBT, PBT, or IBT), test locations, and five business schools.
• Add a scanned copy of your signature and a current passport-size photo.
• To finish the transaction, pay the fee using a debit/credit card, net banking, or an e-wallet.
Information on the MAT Admit Card for 2022
It is crucial to double-check the information on the MAT hall ticket 2022 after it has been downloaded.
The information that will be on the MAT admission card in 2022 is provided below.
• Candidate's name
• Candidate's roll number
• Registration number
• Test mode
• Exam date
• Reporting time
• Candidate's photograph
• Candidate's signature
• Candidate's category
• Exam day instructions
MAT 2022 Syllabus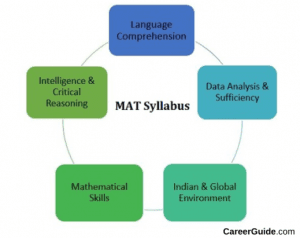 MAT 2022 Exam Schedule
The MAT 2022 exam format is identical for CBT, PBT, and IBT. Candidates should review the highlights of the MAT exam format in the table below:
MAT 2022 Exam Preparation Tips
Candidates must prepare for the MAT exam for at least six months. They should concentrate on sharpening their problem-solving abilities with the aid of old MAT question papers, online practice exams, etc. for a successful preparation. The MAT preparation plan needs to be properly thought out, in line with the MAT exam format and syllabus. The following are some hints for MAT 2022 exam preparation:
• To develop reading and comprehension abilities and to stay up to date on local, national, and international matters, read daily the best books for MAT exam preparation, periodicals, newspapers, and online blogs.
• Practice the MAT test questions, sample papers, and online mock exams to increase your speed
and accuracy and become more familiar with the test format.
• Analyze your level of preparation frequently to determine your strengths and weaknesses in each MAT curriculum unit.
• To perform well on the MAT exam, focus on the themes that carry higher weight in each part.
• Avoid wasting time on difficult or challenging questions since time management will help you attempt the most questions on the MAT.
MAT 2022 Admit Card
The MAT 2022 exam registration process for the May phase has begun. You can download the MAT IBT and PBT admission cards from the official website. Candidates must enter their registration number and date of birth on the AIMA-MAT website's login page in order to download their hall ticket. The steps to download your MAT admit card are shown below:
• Navigate to the MAT 2022 webpage.
• Click on "download/view."
• MAT admission card can be chosen from the drop-down menu.
• Enter your email address, password, and birthdate.
• Save the MAT admissions document.
MAT 2022 Exam Day Instructions
• Candidates for the MAT 2022 IBT mode should set up a laptop or desktop and check their internet connection at least an hour prior to the exam time.
• Candidates for the MAT 2022 IBT mode should dress formally and be prepared to provide their admit card and any supporting documentation for remote verification.
• From 10:00 AM to 12:30 PM, the MAT PBT and CBT are held. Candidates must arrive at the testing location by 8:30 AM.
• If taking the exam in PBT format, candidates should have a blue or black ballpoint pen with them.
• Candidates must make sure they don't bring any of these items to the exam center because they are forbidden. This includes phones, calculators, electronic watches, and other similar items.
• Carry the original copy of your MAT 2022 admit card because a digital or photocopy will not be accepted as legal identification.
Instructions for the MAT Exam Day and COVID-19 PBT Safety Guideline
Additionally, bring the following paperwork to the MAT exam location for the PBT and CBT modes of testing:
• Admission ticket: two printouts
• Declaration of Self for COVID-19: Using the admissions card
• Proof of identity: Voter ID, Aadhaar Card, Election I-Card, Passport, Driver's License, and PAN Card, all in original form.
• If your name has changed, you must have documentation to prove it.
• Caste certificate, if applicable: If you fall under the SC, ST, or OBC categories, you must have a caste certificate.
MAT 2022 Results
For the May 2022 session, MAT results are available for all three options. The AIMA website posts the MAT scorecards, which test takers can see and download using their login information. The actions to take in order to download the MAT result for 2022 are listed below.
• Visit the MAT exam's official webpage.
• Click on Download/View.
• Select "MAT result"
• Choose the exam month, then enter your registration and roll numbers.
• Select the "Submit" tab.
• The screen will display the MAT 2022 scorecard.
MAT 2022 Cut off
The table below shows the anticipated MAT cutoff for admission to the 2022 batch.
| MAT Accepting Colleges  | MAT cut off 2022 (percentile) |
| --- | --- |
| Amity Business School, Noida | 90+ |
| Christ University Bengaluru | 80-90 |
| BIMTECH Greater Noida | 80-90 |
| SIESCOMS Navi Mumbai | 80-90 |
| Jagan Institute of Management Studies (JIMS), Rohini Delhi | 80-90 |
| Institute of Management Studies (IMS) | 80-90 |
| Indus Business Academy | 80-90 |
| IPE Hyderabad, Institute of Public Enterprise | 80-90 |
Best MBA Schools That Accept MAT Scores
More than 800 MBA institutions in India accept MAT results. The list of universities that accept MAT scores for admission to MBA/PGDM programmes is shown below.