Introduction
Economics is a discipline which involves learning to gather, organize and interpret the data and then, using statistics mathematical formulas to do calculations and arrive at findings or conclusion. This allows us to know the impact of investment, industry trends, policy decisions, climate change, demographics, etc. on the financial sector of society. Skills required are good analytical and statistical skills to do the calculations and arrive at various findings. The discipline also requires good communication skills to convey the results simplistically. This can be deciphered by common people, policy legislators, business leaders, etc. It requires the ability to convert the analytical data, which might be in the form of charts and graphs, in a manner that could be understood by people who have not done majors in the discipline. 
Career paths
Professional Economist careers– It involves researching, analyzing, interpreting, and summarizing economic data, trends, and issues or problems. A professional economist is required to present economic forecasts and reports to his or her clients, which may include an individual, a firm, financial organizations, or any public body. For this, a postgraduate degree in Economics to acquire specialization in carrying out such research. 
A career in banking– An undergraduate degree in Economics opens up a wide avenue for a career in the banking sector. They are required for roles like financial planning, data analysis, and consultancy, risk analysis, financial control, etc. 
A career in accountancy- Even pursuing a career in accountancy might require further studies in the field of accountancy but there is also high demand in this field who have studied economics at the undergraduate level. It involves determining the financial situation of an individual, firm, or business, organization, or public as well as any private body. Other than expertise in economics, this career option also requires good mathematical and computer skills. It is the ability to decipher and contextualizing the collected data. Those who have acquired an undergraduate degree in economics are in a better position to understand the root cause behind the financial problems of any organization. It helps in resolving that problem, enabling success for that organization.
A career in business and financial consultancy– Organizations that require to do economic research have a high demand for undergraduates in economics. These undergraduates can assess the economic, financial, and business situation correctly to a large extent. This job requires in-depth knowledge and capability to conduct economic research using various economic theories, mathematical, analytical, and statistical skills. This field needs an individual to be aware of the trends in the world of corporate finances and is well-versed with the trends in the industry.
A career in the public sector- When an individual goes into the public sector with a degree in economics, they need to perform roles in the domain of transport, commercial waste services, transport, and other forms of government spending and public taxation. It also includes working in the aspect of policy analysis.
Actuarial and data analysis career option in economics– Actuary is a profession where an individual needs to evaluate and advise on the impacts of financial risk and uncertainty. The financial world is full of dynamism and the business environment is constantly changing. Thus, the role of an individual is to use their knowledge of economics as well as the business environment to suggest measures to reduce such risks. This job profile requires that an individual possesses tremendous potential in the field of Mathematics as well. 
Compensation and benefits manager– They need to study the trends in the labor market and assess the situation of demand and supply for various kinds of jobs. They need to assess the options for pay and benefits. They also are expected to work with the human resources of the company or organization and submit their findings to the senior management. 
Credit Analyst– Businesses, organizations, firms, and companies lend money to those who need it. However, lending can be a risky business. The job of a Credit Analyst is to assess the risks that are associated with lending. They summarize their findings and they also suggest the interest rates at which the firm should lend.
Lawyer– It involves cases related to corporate tax, business malpractices, anti-trust law, personal injury, etc.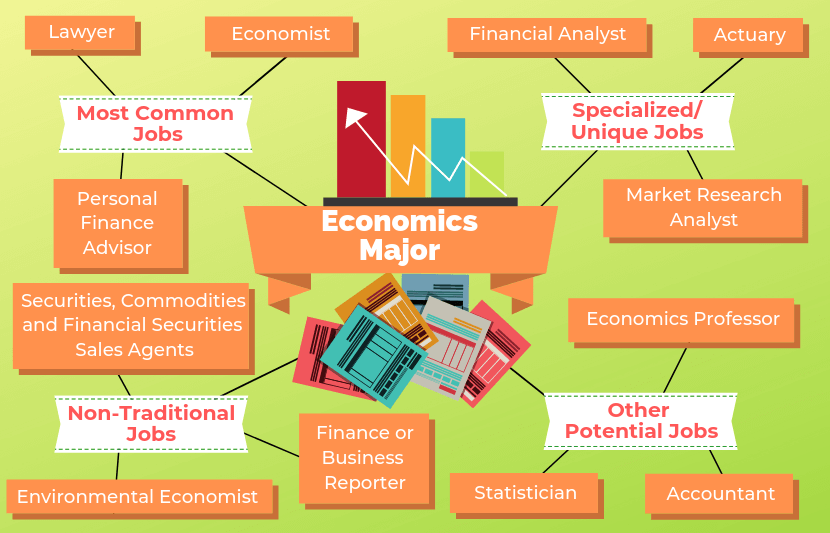 Conclusion
To conclude, we can say that economics provides promising career avenues and the demand for graduates in economics is ever-expanding. It is a challenging career as it involves a high level of dynamism and risks. At the same time, assessing this dynamism can be an interesting career option for those who are passionate about carrying out economic research.
:By-Achal Suchak.