The full form of MBBS is a Bachelor Of Medicine And Bachelor Of Surgery. MBBS is one of the professional courses in India. Getting admission in MBBS courses in India also becomes a bit difficult, as being the most in-demand course in the country. However, getting the right information is also very important to get admission to MBBS courses in India. Here is an article on 7 Best Colleges For MBBS In India .
These colleges have world-class infrastructure, experienced faculty, and state-of-the-art facilities to provide high-quality medical education to students. Admission to these colleges is highly competitive, with entrance exams being a key factor in selection. Graduates from these colleges have gone on to become successful doctors, researchers, and healthcare professionals in India and around the world. Know More About career counselling services for working professionals
All India Institute Of Medical Sciences (AIIMS) is the most prestigious medical college for MBBS in the country. Its entrance exam involves lakhs of students every year, but only 72 students enroll in the MBA program. AIIMS has been ranked first in India's best medical college survey 2016 list, at all Indian level. AIIMS conducts entrance exams every year, usually, this exam takes place in June. The online form has to be filled for admission, which is available on the AIIMS website. There is a written test as an entrance test. These three and a half hours of selection exam consists of 60-60 questions based on physics, chemistry, and biology. Apart from this, the remaining questions are on English and reasoning. Know More About HIGHER/EXECUTIVE EDUCATION GUIDANCE.
This institution Christian Medical College (CMC) started India's first nursing college in 1978. It was the first institute in the world to have reconstructive surgery of leprosy (leprosy) in 1948. It also carried out successful open-heart surgery and kidney transparent for the first time in the country. In the India Today-Nielson survey 2014, this college has been ranked second among the top 25 medical colleges in India. Several courses are offered here, some of them are MBBS, BSc in nursing, and allied health sciences degree. In this college, admission is done through the entrance examination. This college also accepts the NEET score for admission to the MBBS program.
Know your professional skill index
Take Professional Skill Index test now
There are 5 hospitals affiliated with the Maulana Azad Medical College College (MAMC), which include Lok Nayak hospital, Govind Ballabh pant hospital, Guru Nanak eye care, and trauma center. In India Today Nielson, Maulana Azad medical college has been ranked fourth in the list of India's best 25 medical college survey 2016. The mission of this institute is to produce medical scientist, from the beginning. Undergraduate, postgraduate degrees are provided in the following departments pre-clinical, para-clinical and clinical are three groups. Here admission is done strictly based on the entrance examination. The examination is conducted by the AIPMT, AIPGMEE, and the University of Delhi.
Kasturba Medical College (KMC) is the first private-sector Medical College in the country and the first private-sector college to be included in the top 5. KMC has been teaching medical practitioners, since 1953. So far, students from 44 countries have enrolled here. According to the India Today-Nelson, this college has been ranked eighth in the list of best 25 medical college survey 2016 of India. Admission is done based on NEET, which is conducted by the national testing agency (NTA).
Affiliated to Delhi University, the University College Of Medical Sciences (UCMS)college hosts two of the most popular medical festivals in the country, Ripple and Avalanche. According to India today-Nelson, the University of medical sciences and GTB hospital has been ranked 9th in the list of India's best medical college survey 2016. It has a very large campus, which includes Guru Tej Bahadur hospital. There is a huge library with a large volume of teaching and learning resources. There are 17 departmental libraries in this college and there are two hostels, one each for boys and girls.
Know your professional skill index
Take Professional Skill Index test now
For many years, it is called Chhatrapati Shahu Ji Maharaj Medical University then the institute was renamed King George Medical University (KGMU) again in 2012. Here pediatrics, surgery, neurology, and ophthalmology are included in the best department of the country. King George according to India today-Nelson, King George Medical University has been ranked 7th in India's best 25 medical college survey 2016 list. If students want to get admission to this university then they have to first fill the application form. The application form for King medical University admission can be filled out both online and offline mode. Know More About HIGHER/EXECUTIVE EDUCATION GUIDANCE .
Jawaharlal Institute Of Postgraduate Medical Education And Research (JIPMER) is situated in Pondicherry, India. It provides undergraduate and postgraduate medical training. This is also a hospital which provides medical facility to the number of patients. This institute offers courses such as MBBS, BSC, MSC, MP /MS degree, etc. Admission is done based on the JIPMER entrance exam, which is conducted online. JIPMER provides a full-time MBBS course. The student must have passed the 10+2 senior secondary examination with physics, chemistry, biology /biotechnology to fill the application form.
Know your professional skill index
Take Professional Skill Index test now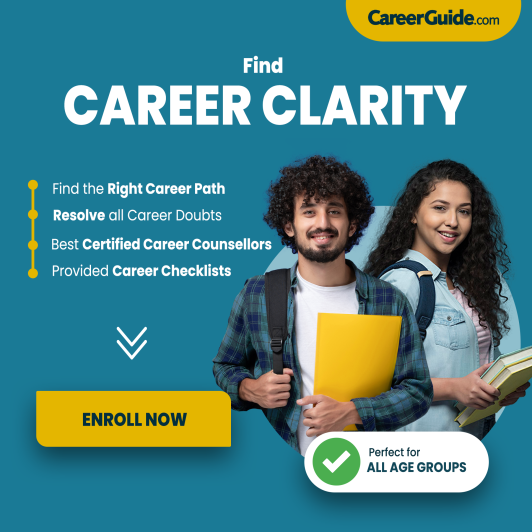 Students at schools, colleges, UG, PG, and other institutions frequently receive career counselling, which is very helpful in ensuring that they land the ideal job, goal, etc. for their career. It is crucial to keep in mind that career counseling does not only apply to students when it comes to working professionals. A working professional could occasionally want to change their job description, operate in a different environment than they anticipated, or hold a position that doesn't offer long-term stability, among other things. At any time in one's life, a professional counselor should offer career counseling. By providing you with beneficial suggestions, expert career counselors can assist you in selecting the best and safest path for you.