Art students have a unique set of skills and creativity that can be applied to a variety of career paths. While some may assume that art students are limited to careers in the traditional fine arts, there are actually many diverse and fulfilling career options for art student . Here is an article on 7 Career Option For Art Students.
Art Acquisition Specialist
An art acquisition specialist develops, acquires, and produces artwork for projects/shows. This can be for any type of industry, such as retail stores, art galleries, or for individual clients. You may enjoy a career assisting clients wishing to add art to their portfolios. You'll investigate art before pursuing purchase and negotiate the price. You'll be responsible for all shipping and receiving of art, manage art inventory, and may produce the visual presentation of acquired artwork.  Know More About career counselling services for working professionals .
Know your professional skill index
Take Professional Skill Index test now
Education requirements depend on the industry. A financial institute art investor will need a bachelor's degree in science and/or an MBA degree in finance and perhaps an art degree or art training. Some private investment firms offer an apprenticeship for their investors. The annual median salary is around $50,000.
As an advertising artist, you'll most likely work for an advertising agency. You'll be responsible for creating and designing visuals for different advertisements and marketing campaigns. A bachelor's degree in graphic art or fine art is usually required for this position. The annual median salary is around $43,000. 
Animation, Cartoonist, Multimedia Artist
An animator creates frames (multiple images) to generate the appearance of movement (animation). This is accomplished by viewing each frame in rapid sequencing. You can find a career option for art students with a or movie/television production company. You'll need a bachelor's degree in a related field, such as computer animation, graphic or fine arts. The annual median salary is around $74,000.
An estate art appraiser is knowledgeable in the history of art and antiques. You may choose to specialize in a certain art period or type of art collection pieces. Most antique art appraisers evaluate pieces of art to determine authenticity and monetary value. An art estate appraiser is capable of authenticating, appraising, and evaluating all types of art. Traditionally, you may need a bachelor's degree in art, art history, or a related field. One non-traditional source of education is the annual median salary is around $60,000. Know More About HIGHER/EXECUTIVE EDUCATION GUIDANCE .
A fine art restorer will assess damaged artwork and determine the best way to restore it to its original or nearly original appearance. Art can include paintings, sculptures, murals, books, and various art objects. You'll need a bachelor's degree in art history, fine art, studio art, or even anthropology or archaeology. The annual median salary is around $61,000.
Architectural designers aren't considered architects but create project layouts, plans, and drawings for clients using CAD software. This can include gardens, various landscaping, and buildings. You'll also utilize color or collage boards to present a complete picture of your proposed project. You'll need a bachelor's degree in architecture, civil engineering, or drafting. The annual median salary is around $52,000.
Know your professional skill index
Take Professional Skill Index test now
An art auctioneer conduct evaluations and assessments of various art objects. This includes determining the age, origin, quality, and condition for setting a price value. You'll work closely with both art sellers and art buyers. You'll typically work at an auction house, gallery, estate art auctions, or other settings. An art auctioneer isn't required to have any specific type of educational background.
An art director oversees the visual art used in various media, such as websites, newspapers, magazines, packaging, and movie/television productions. You will spearhead projects and provide the overall creative designs while assigning the artwork and various layouts to others to develop and complete. A bachelor's degree is required in a relatable field, such as graphic arts, illustration, or photography. Most candidates are expected to have three to five years of experience. The annual median salary is $93,000.
After completing your Arts in graduation one can pursue a Post Graduate course in Mass Communication or there are many other master programs if one wishes to further go in academics. You can study for your master's degree from one of the top colleges in the UK, USA, GERMANY, FRANCE OR EUROPEANS NATIONS.
Know your professional skill index
Take Professional Skill Index test now
Kicking off with perhaps the most obvious of art student's careers, there is no reason why you cannot pursue a career as a professional artist if you have talent and dedication. You will also need plenty of self-belief, stamina, and the ability to promote yourself, as this is a highly competitive career path. Relevant work experience in the creative sector, such as working as a studio assistant, would be useful, and you should be resourceful in finding new and interesting places to showcase and sell your work to get yourself known. Some fine artists also decide to continue developing their work alongside work in a relevant full- or part-time job, such as that of an art teacher/tutor. Illustrators use their creative skills to communicate stories, messages, or ideas to an intended audience.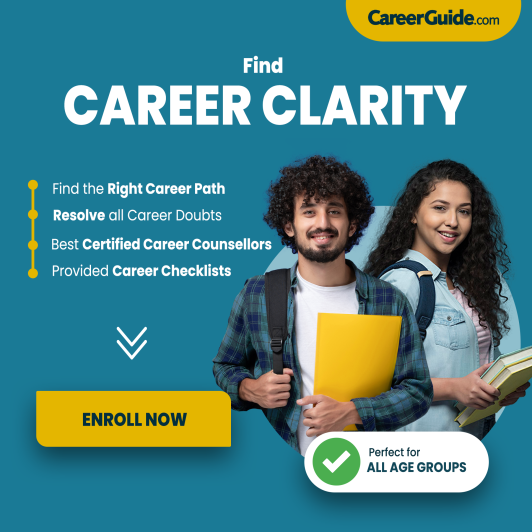 If you feel stuck in your current positions, or if you are in-between roles and unsure of what you want to do next. Then you need career clarity service. CareerGuide brings Career Clarity Service for Working Professionals to overcome wide variety of work-related challenges. You'll have better career clarity than most people if you actually understand what makes you tick and what your mission in life is. You will have a better understanding of what you need to do to pursue those careers in the future after a career session with a certified career counselor.