As we all know about the current scenario in context to the deadly infection that is a coronavirus. Coronavirus is the most disastrous disease that has ever attacked the entire mankind. It has been found in more than 110 countries. There is a loss of lives in hundreds, thousands, and lakhs, the number will not take any less to increase before the blink of our eyes. We all need to be very well prepared and should definitely take all the suggested preventive measures by doctors, and our government. We all also need to become more productive at work from home when the entire country is going to lockdown.Here is an article on 7 Ways To Make Work From Home Productive .
Places like malls, theatres, shopping streets, cafes, public libraries, offices are being shut to prevent the spread of this deadly virus which is still not curable. Janta curfew has been activated. So, as all the offices, workplaces are being shut. They are going to work from home to ensure the security of life and to prevent the further spread of coronavirus.So, when you are going for the 'work from home' for your work. We have got you covered.  Know More About career counselling services for working professionals  .
Make A Workspace For Yourself In Your Home
Your first step needs to be to set up a work station or to devote some little space of your house for the work. Get yourself an area or a working zone to do all your work. This will help you to be active while working rather than being lazy, feeling cozy, and very unproductive during the days we practice quarantine.
Know your professional skill index
Take Professional Skill Index test now
This sentence is not meant to be taken lightly at all; we suggest you, as we have experienced it. The sooner you start, the earlier you leave your office, oops we mean your work desk at home. The workload does not decrease when you work from home, it even increases as you are not that attentive and you can not stay glued to your desktop screens when you are at home. But seems like you will develop this habit as recently PM Modi announced 21 days curfew in India. So, start early, and leave early, and chill at home. Know More About MASTERCLASS FOR WORKING PROFESSIONALS .
Stay Safe And Keep Washing Your Hands
We are all advised to stay in and stay safe by our government and WHO. One should not forget this thing at all, even while you are working, keep washing your hands. Sanitize your gadgets, systems, and workspaces too. Take little breaks for food, snacks. Get up and straighten up your neck and shake your back. Loosen up then go back again to your desk.
Know your professional skill index
Take Professional Skill Index test now
Minimize The Distractions At Home
We all get interrupted, by a lot of factors, things, and of course, people, when we work from home. It is so obvious, so we can take advantage of being at home and can use the flexible hours of work we get. When you are working, just work. Switch off your TV's, shows, gossips, coz one cannot multitask, your eyes can only be at a single screen at a time, and this has to be your desktop. And when you are not working, just relax. This way you can be involved with family members, household chores, and also get your work completed. Know More About MASTERCLASS FOR WORKING PROFESSIONALS .
Do not procrastinate while you work from home. As you may want to take a break for a while, but this break would eat your many hours up. Do not delay. Prioritize your work, make a list of things to be done by the end of the day, start one by one to get it all done on time. Try to not put push things, tasks, and work to another day. As we all know what happens the next day. Human nature- you know.
Know your professional skill index
Take Professional Skill Index test now
Turn off anything that is unnecessary and unimportant to you. By turning off- we mean to stay a bit away from social media. Do not stick to your Instagram, checking out all the latest updates, memes page, recent posts from celebrities, and all that stuff that we all do. You can never do your work assigned to you while keeping an eye on these apps. Turn off social media, turn off updates from news channels, turn off your doorbells if needed. It's okay to be a bit serious about work. Know More About STARTING UP GUIDANCE .
When you are working from home. You are sitting in your most comfortable clothes, sipping coffee, working at odd hours, it's all chilling. But do not forget to keep a track of time. Put some timer, or check how many hours have you been working on a single task, or how many more you will need to get the job completed. As when we are at home, we don't know how hours just fly in the blink of an eye at home. And nobody wants to spend their entire morning, evening, or late night maybe, doing their office work.
MASTERCLASS FOR WORKING PROFESSIONAL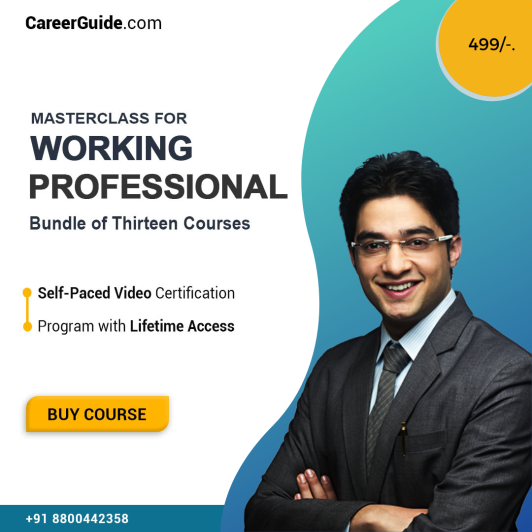 Masterclasses are advanced level courses that offer in-depth knowledge and practical skills in a specific field or discipline. These courses are designed to provide working professionals with the opportunity to enhance their skills and advance their careers. Masterclasses are becoming increasingly popular among professionals due to their practical and hands-on approach, providing a valuable learning experience to help them to excel in their fields. In this article, we will discuss the importance of Masterclass for working professionals.