Nowadays, productivity is considered as one of the leading factors for recruiting the workforce. While many of the job aspirants use this word as a perfect adverb to describe themselves, they are using it without knowing its actual meaning. Unfortunately, the definition of productivity is being misunderstood in most of the cases. It is not just a measure of efficiency but a 100% output from a worker when incorporated with effective management of time and skill. Here is an article on 8 Best Ways to Improve Productivity . 
 There are basically two types to improve your productivity, workforce productivity, and personal productivity. Former deals with the number of goods and services produced within a certain time period while the latter is the output produced by an individual. Know More About career counselling services for working professionals .
Know your professional skill index
Take Professional Skill Index test now
It is very important to have realistic goals as well as clear focus. Many of them fail to do so because of high expectations. Supervisors and managers should have a clear cut knowledge about the abilities of their employees. Give them goals that are achievable. In order to set achievable goals, you must believe in yourself. This will gradually build confidence. Planning is the second step. Effective management of tasks and time allocations increase your chances of success. It is good to dream big but if you do not have enough experience and time, don't try to go behind such tasks. It will ultimately bring more depression than success.
Being efficient is not easy to attain in a single day. Habitual changes could bring drastic changes in your life. Efficiency means giving a hundred percent output to a work. It is not as easy as you think. Firstly, you need to prioritize your task according to the deadline and the nature of the work. For a time-consuming task, be wise to break them into smaller tasks. Efficiency doesn't always come from a single person. Some specific works need to be divided into groups. Productivity comes in a different way. There are no shortcuts, bring this as your habit to see miracles. Know More About MASTERCLASS FOR WORKING PROFESSIONALS .
Know your professional skill index
Take Professional Skill Index test now
Social media is now becoming a greater source of distraction during the study, even in the workplace. They are actually time killers. By doing some simple methods, you can overcome this problem. It is not a practical way to avoid mobile phones in an office. Instead, employees should be given enough intervals between their works. The boredom of tiring works could be eliminated. Refreshed brains would bring more productivity. 
Set A Comfortable Workplace
A workplace is not merely a concrete building. If the employees work in tedious conditions that will reflect in their work too. Lighting and temperature are the two crucial factors that affect the comforts of the workers. Harnessing more natural light could improve mood and energy which results in greater productivity. This may be hard to implement through windows instead, use blue-enriched lights. Maintaining a comfortable temperature inside the office is very important. Irrespective of the climate, keep the temperature between 68 -70 degrees. Know More About CERTIFICATION COURSE-WORKPLACE COMMUNICATION .
Give Motivation And Support
You have to push yourself every day to achieve your goals. This scenario would be changed if you get motivated by your superiors. Their motivation can be delivered in the form of rewards. Employees could be given incentives, promotions, and free holiday trips. It keeps them focused to accomplish their goals to Encourage them to complete the most challenging work. At the same time, healthy criticism is also good. Give motivation and rewards in front of other employees, it would be helpful in generating potential workers.
Know your professional skill index
Take Professional Skill Index test now
The time consumption for work could be reduced with the use of the right tools. Wrong equipment brings chaos in the workplace. Working in front of inefficient equipment is a serious time spoiler. Companies indeed get an exposure in the market with their sophisticated technologies. More companies are now becoming automated with the latest technologies. Purchasing ultra-modern software, as well as equipment, will ultimately change the efficiency of the workers. Know More About CERTIFICATION COURSE FOR JOB HUNT TOOL KIT .
Try to focus on a single work. When you try to do more than one task, it will make you confused. The aftermath of avoiding multitasking is that you will be able to finish works with more focus and attention. State of the mind is another important factor that helps you to stay on unitasking. When other works begin to pop into your mind, redirect your focus. Make sure that when you say "yes" to more responsibilities, you can handle it. Tracking your everyday working habits could eventually eliminate multitasking.
Know your professional skill index
Take Professional Skill Index test now
Start With The Most Challenging Tasks
Most of them have a tendency to procrastinate the challenging task. Personal efficiency is attained when you become motivated and confident in confronting your challenges. Morning time is perfect for completing difficult works. It is considered as the energy peak time. If you complete that work, then it will boost you to finish other works. When prioritizing your work, give importance to the most challenging tasks. Try to finish them as early as possible and try to do some effective management tasks to increase your productivity. Primetime should be allocated to uni-tasks that are very urgent and difficult.
MASTERCLASS FOR WORKING PROFESSIONAL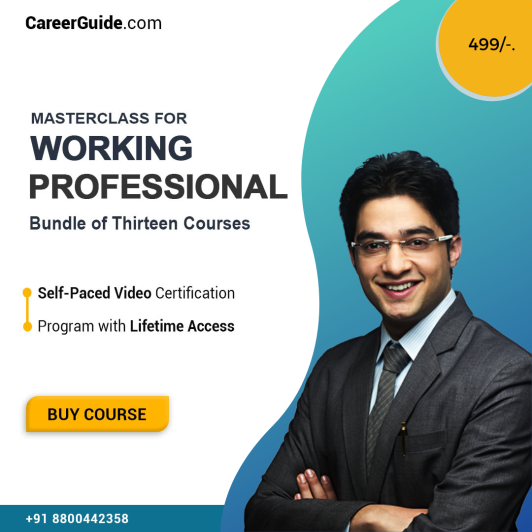 Masterclasses are advanced level courses that offer in-depth knowledge and practical skills in a specific field or discipline. These courses are designed to provide working professionals with the opportunity to enhance their skills and advance their careers. Masterclasses are becoming increasingly popular among professionals due to their practical and hands-on approach, providing a valuable learning experience to help them to excel in their fields.Know More About Masterclass for working professionals.