Most of the time we spend at home even during working days. When we have to be in our office at that time we find ourselves in the couches or kitchen. Trying to work at home without any discipline. We expect this to happen but our surroundings do not have that environment and it's not always been an easy job. Here is an article  on productive ways to work from home.
We are providing you some Ideas For Work From Home. We have to create this kind of environment to work at home. So that we can pay full attention to our work. If you are working at home for the first time then some of the productive ways are given here to make such an environment work from home. You should follow these steps. Here are Productive Ways To Work From Home.  Know More Details on Services For Working Professionals.
Know your professional skill index
Take Professional Skill Index test now
Find A Place According To You
Working from home has a purpose but this does not happen to everyone all the time. Do you want to promote your creativity or do you like a quiet atmosphere? You can find yourself on the couch one day and in the kitchen the other day. Let us find some Productive Ways To Work From Home.  It depends on your work. Find, How do you make your day mostly. For example, if you are creative in the morning. You may think of an idea for the next project and after that in the evening, you can do the rest work by sitting on the couch. Know More Details on Masterclass For Working Professional. This is an important part and Idea For Work From Home.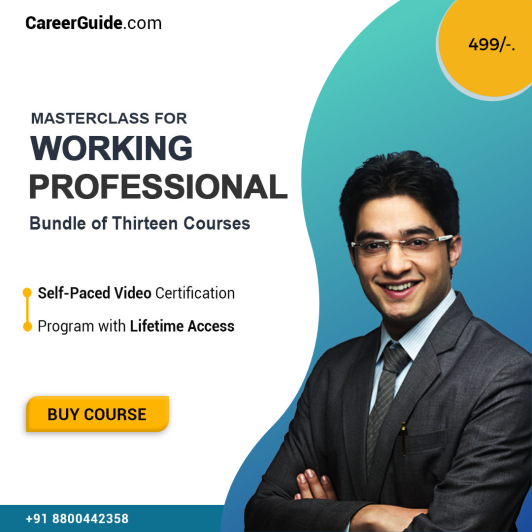 Many people feel that working at home means doing it their own way like working in pajamas or watching TV While working at home, you have to turn towards your success. Get ready as you are going to the office. Take a cup of coffee and do what you like. Start your day job with the right objective. Getting ready for work is also an important part and ideas for work from home.
Know your professional skill index
Take Professional Skill Index test now
Sometimes, it seems easier to work on the couch or bed. If you do not need a table, keep in mind that you have a small table near you. Be sure to put a dustbin in front of you so that bad paper is thrown away. Also, keep a glass of water and a mobile phone near you. Keep your laptop in front of your eye so that your neck does not hurt. Also, keep a pillow near you to help keep your body in maintenance. Be in the right position is also a productive way to work from home.
The light coming from the windows is very good but it can shine on your computer screen. If the windows are open and you have no problem seeing the screen, then it is fine. If not then close the window and turn on the light. Table lamps are also very helpful. Know More Details On Workplace Communication.
Keep Your Home As An Office
The advantage of working at home is that you can make your home according to your own way, which you cannot do in the office. You can make it like it is for a single person. Take care of the surroundings so that you get a good environment. It is an important part and ideas for work from home.
Know your professional skill index
Take Professional Skill Index test now
It does not matter how many days you work at home, one day, a week, a month or all the time. So according to that, you make your own schedule. When to start or when to finish or when to take rest? Take care of everything in your schedule. It will read your work. This will go to the co-workers as an example that you worked sitting at home just like the office.
Taking a break after working for a long time becomes very important, it will make you feel less tired and will help you to work. The idea is also a productive ways to work from home . Walking outside for a few minutes so that your brain relaxes and thinks of something new. Wander around a nearby shop for tea. If some other people like you also sit and work in the house, then invite them and work together by making a group. It will help you feel like an office. With this, you will be able to work from home setting like an office.
It is very important to have a limit in doing any work properly. Every day there is a limit after which you don't have to think about work. This is also a productive way to work from home. After that, you have to make your mind relaxed and stop thinking about your work. It doesn't matter where you work from home or office. We have to balance our work life or personal life. It doesn't matter where we work. Ending the day at the right time is very good for your health. So that you can start your next day with new ideas.
Know your professional skill index
Take Professional Skill Index test now
Career & Job Switch Guidance
Want to switch careers, move jobs, or look for a job? Let's expedite things for you. You can rethink your career and create a plan with the aid of one of our coaches. Your career counsellor will stick by your side as you update your résumé, LinkedIn profile, and career strategy. Get ideas and a tried-and-true step-by-step procedure.
Job switching, commonly referred to as job hopping, is a tendency of changing employers frequently in search of better employment or pay opportunities. A person's aspirations, rather than events like a layoff or a company closing, are typically what lead to a job change. After working somewhere for a while, changing jobs is common. The two most important factors for changing jobs across industries are believed to be growth and income. Know More Details on Career & Job Switch Guidance.
If you feel stuck in your current positions, or if you are in-between roles and unsure of what you want to do next. Then you need career clarity service. CareerGuide brings Career Clarity Service for Working Professionals to overcome wide variety of work-related challenges. You'll have better career clarity than most people if you actually understand what makes you tick and what your mission in life is. You will have a better understanding of what you need to do to pursue those careers in the future after a career session with a certified career counselor.