Over the last few years, management education has undergone constant changes. As a result of the COVID-19 pandemic, businesses are changing in ways that require management courses that can adapt to these changes. Consequently, PGDM courses have gained popularity in recent years and are attracting a variety of students from across the country. Since the changing job market scenario has increased demand for PGDM graduates by almost double, there are many reasons to pursue a career in this field.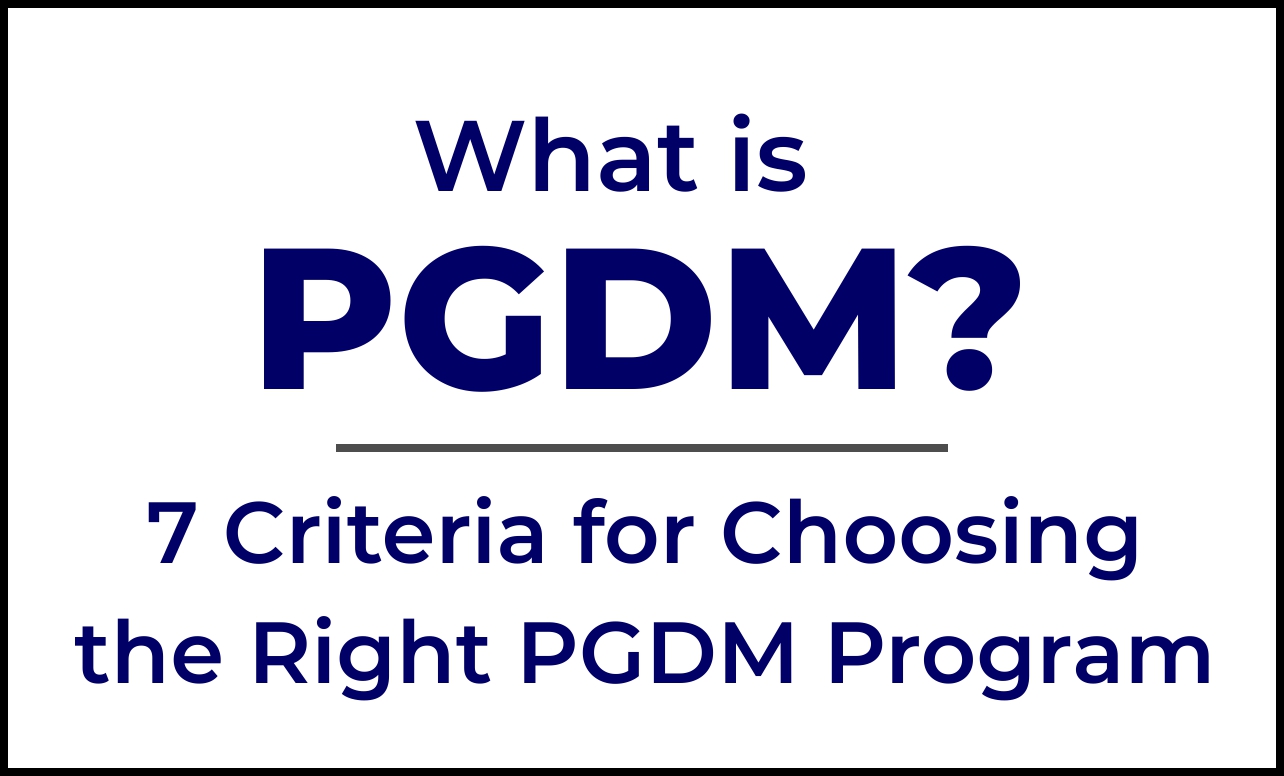 There is a more profound emphasis on the scientific understanding of work in PGDM courses than in other courses. PGDM courses include PGDM in Financial Management, PGDM in Strategy and entrepreneurship, PGDM in Marketing Management, PGDM in Business Analytics, and PGDM in Human Resource Management, among others. A PGDM course exposes students to major aspects of business that aren't included in an MBA course, such as:
An industry-centric approach
It is difficult to keep pace with changes in the industry and economic landscape in traditional MBA programs. PGDM curriculum, however, can be updated or revised at the B-school's discretion to reflect new industry standards and requirements. As a result of rapid innovation in curriculum and pedagogy, students will gain an edge when entering the workforce. Practical application-based learning is also a feature of such programs, as opposed to pure theoretical study. Additionally, the PGDM course is an ideal choice for those interested in entrepreneurship because it emphasizes horizontal skills more than vertical ones.
A lucrative field of study
These courses are lucrative as they offer skills that are highly demanded by companies thus increasing their employment potential and probability. PGDM courses have gained prominence and attracted many graduates wishing to work in the manufacturing sector since PGDM being a skill-based course allows students to receive well-paid and profitable jobs. By enrolling in PGDM courses that are skill-based, students can develop skills before they graduate, which increases their employment prospects.
Developing entrepreneurial skills & mindset
PGDM courses prepare students with advanced business minds to compete in the market. As a guide, this course encourages students who want to become entrepreneurs to explore different domains, think of their ideas, and implement them. Students can explore various approaches, which allows them to function as innovators and self-starters and overcome risks. By implementing their ideas and thoughts as early as possible, they gain a realistic view of industrial aspects, which helps them to attract lucrative and beneficial career opportunities.
Diverse specialization options
The PGDM degree is the best way to pursue a wide range of specializations in one academic year. First-year students can select a specialized course, for instance, Finance based on their preferences. Further, they can switch in the second year to another specialized course such as marketing if they wish. As a result of this curriculum pattern, students gain knowledge and develop their thinking on various aspects of the industry. Consequently, it increases the chances of employment across multiple fields in the corporate world.
An impressive corporate career
Corporate world professionals value PGDM degrees even more than MBAs in terms of potential and value. As these courses are specialized and skill-based, PGDM degrees provide direct entry into the business world. On the other hand, MBAs require a bit more effort to produce the same results as PGDM. The PGDM courses act as counselors as they assist students in choosing the right career path from their sought-after specialized courses. As a consequence, they can reach higher career goals with no obstacles in their way. Additionally, family business owners can pursue management courses after graduation to acquire the necessary skills and knowledge.
Higher Remuneration and Return on Investment
Along with the chance to interact with top business leaders and learn how they work, the most motivating part of pursuing PGDM courses is their high salaries. Most professionals who pursue PGDMs are already working professionals looking to increase their salary. It makes sense that one would want a return on investment when studying at a top management college. In general, PGDM graduates earn greater salaries than those who completed a similar course before enrolling in a PGDM program.
Enhancing your personality
The PGDM offers a variety of benefits and caters to students who aim high and wish to grow. In addition to boosting personal development, the courses prepare students for workplace challenges, leading to a higher success rate. By strengthening communication, leadership, and critical thinking skills, a PGDM prepares students for more precise decision-making. Aside from classroom lectures, PGDM students participate in role plays, guest lectures, industry trips, summer internships, and extracurricular activities.
#FIIBIndia: Ranked #3 – Top Pvt. B-Schools of Delhi by CSR-GHRDC, 2021
An AICTE-approved, NBA accredited, FIIB is a unique city B-school based in South Delhi offering MBA and Ph.D. programs since 1995. FIIB's PGDM program is known for its innovative, industry-relevant curriculum designed by acclaimed academicians and industry experts. Our program enhances your knowledge base, prepares you for a career, and enables you to emerge as a future industry leader through its three benefits.