Rajalakshmi Engineering College (REC) is a renowned institution located in Chennai, Tamil Nadu. It offers a wide range of undergraduate and postgraduate engineering programs in various disciplines. REC boasts state-of-the-art infrastructure, well-equipped laboratories, and modern learning resources to facilitate a conducive academic environment. The college has a highly qualified and experienced faculty who are dedicated to providing quality education and mentoring students. REC focuses on practical learning through industry collaborations, internships, and hands-on training programs. It also encourages students to engage in research and innovation activities. The college has a strong track record of placements, with students being recruited by top-tier companies. Overall, Rajalakshmi Engineering College is a reputable institution committed to delivering excellence in engineering education and shaping future professionals in the field.
download Universities/colleges cutoff
Rajalakshmi Engineering College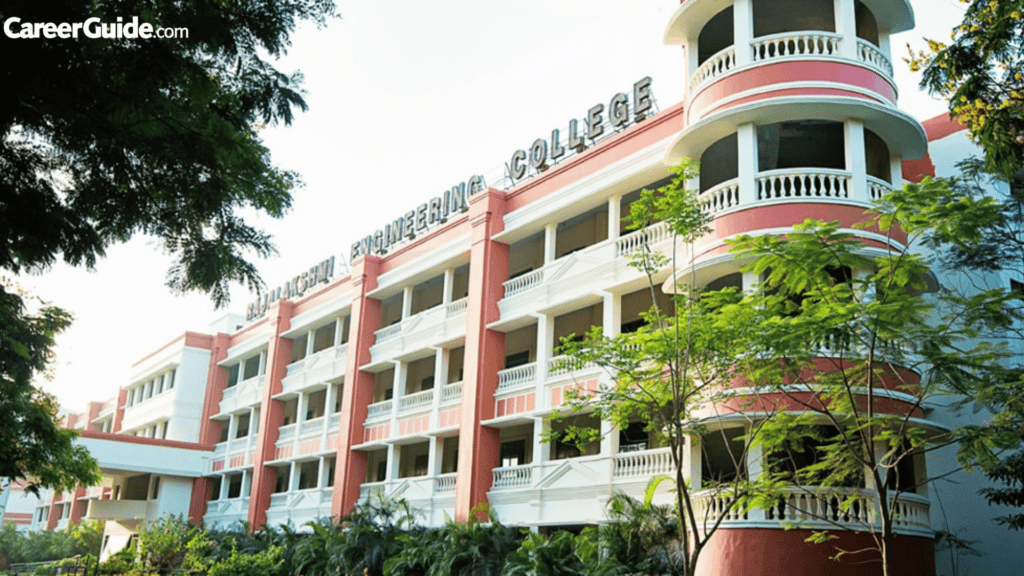 In 1997, Rajalakshmi Educational Trust founded REC College. Private, independent college Rajalakshmi College is connected to Anna University. AICTE and UGC have recognized REC College, while NAAC and NBA have awarded it an A grade in accreditation. NIRF 2022 has Rajalakshmi Engineering College at position 95 for BTech. Students in the Engineering and Management streams can take UG and PG courses at REC College through its 19 departments. Also accredited by ISO is the college. The following table lists a few Rajalakshmi Engineering College highlights:
| | |
| --- | --- |
| Particulars | Statistics |
| Establishment year | Ownership type | 1997 | Private Autonomous College |
| Campus size | 16 acre |
| Top accreditations | 'A' grade by NAAC, NBA |
| Recognised by | AICTE, UGC |
| Rankings (2022) | 95 by NIRF 2022 for BTech. |
| Flagship courses | BTech, MTech |
| Number of courses | 27 |
NIRF top engineering colleges 2023
Courses and fee for Rajalakshmi Engineering College in 2023
Courses

Total Tuition Fees

Eligibility

E

xa

ms

B.E. / B.Tech (19 Courses)
INR 1.5 L – 2 L
10+2 : 45%
TNEA, CBSE 12th
MBA/PGDM (1 Course)
INR 35 K
Graduation: 50%
TANCET MBA
M.E./M.Tech (8 Courses)
INR 1 L
Graduation: 50%
GATE, TANCET
Exams for Entry into Rajalakshmi Engineering College are Accepted
However, admission is granted based on the candidates' scores in the various entrance exams that the college accepts. Merit is the primary requirement for all UG and PG programmes offered at Rajalakshmi Engineering College. The table below includes a list of the courses Rajalakshmi Engineering College offers, as well as the entrance tests that are required for admission.
| | |
| --- | --- |
| Course Name | Accepted Entrance Exams |
| BE/BTech | TNEA followed by TNEA Counselling  |
| MTech | GATE/ TANCET   |
| MBA | TANCET MBA followed by GD and PI |
NIRF top engineering colleges 2023
Rajalakshmi Engineering College UG & PG Course Eligibility 2023
The basic requirements for each of the UG and PG programmes at Rajalakshmi Engineering College must be met by all applicants. For all programmes, the basic requirement is merit in the most recent qualifying exam. Below is a list of the common requirements for the various UG and PG programmes offered at Rajalakshmi Engineering College:
Candidates must have finished their Class 12 with a minimum of 50% overall in a relevant stream from a school recognized by a central or state board in order to apply for UG admission at Rajalakshmi Engineering College.
For consideration for admission to the graduate programmes at Rajalakshmi Engineering College, candidates must hold a bachelor's degree with at least a 50% overall average in a relevant field.
UG Admissions at Rajalakshmi Engineering College 2023
2023 Admission to Rajalakshmi Engineering College
Rajalakshmi Engineering College provides two postgraduate engineering courses (ME, MTech, and MBA) and one postgraduate management course. Each postgraduate programme lasts for two years, and all of them are full-time. These programmes require entrance exams for enrollment.
PhD Admission at Rajalakshmi Engineering College 2023
Application Procedure for Rajalakshmi Engineering College in 2023
Step 1:
Go to Rajalakshmi Engineering College's official website and select "Admission open.

Step 2:
provide the necessary information and press the "Apply Now" button.

Step 3:
Enter your information in the next box that appears by providing a working phone number and email address. Additionally, add the Aadhaar number and other information

Step 4:
Complete the application form with the necessary information.

Step 5:
Send in your application.
Documents necessary for admission
At the time of admission for UG and PG programmes, candidates must present many documents (originals plus two sets of attested copies). The list of required documents is provided below:
Class 10/ SSLC certificate with marks (for evidence of Date of Birth)
Class 12 (Higher Secondary) marksheet
Transfer certificate from the institution last studied
Original Community certificate
Sports certificates of achievement, if allotted under Sports Quota
Extra Curricular certificates, if any.
Medical Fitness certificate
Nativity certificate
Conduct certificate
CET- Entrance Examination marksheet and hall ticket
Eligibility certificate (other State Candidates only)
Three passport size photos
Highlights of Rajalakshmi Engineering College Placements for 2023
Over 2,058 students have been placed as of June 15, 2022, at the Rajalakshmi Engineering College placements. The following table summarizes the main highlights of Rajalakshmi Engineering College placement 2022:
| | |
| --- | --- |
| Particulars | Statistics (2022) |
| No. of students placed | 2,058+ |
| No. of recruiters participated | 322 |
NIRF top engineering colleges 2023
Scholarships for Rajalakshmi Engineering College
Rajalakshmi Engineering College awards scholarships based on merit to students who excel in their coursework and extracurricular pursuits. All undergraduate and graduate students of Rajalakshmi Engineering College are eligible for scholarships in the form of prizes, awards, and waivers of tuition. The four scholarships, their requirements for eligibility, and the scholarships:
| | | |
| --- | --- | --- |
| Scholarships Name | Scholarships Amount | Eligibility Criteria |
| Raghavan Memorial Merit Award | One-year tuition fee waived | College topper of the year, among all first-year students |
| Lady Parvatham Trust Award | Cash prize | Topper among all first, second, and third-year students |
| Thiruvenkatam Sivasailam Endurance Prize | N/A | Students exhibiting a positive attitude, and improved performance |
| Giri Memorial Best Outgoing Student Award | N/A | Merit-based |
download Universities/colleges cutoff
Yes, Rajalakshmi Engineering College is accredited by the National Board of Accreditation (NBA), which ensures the quality of technical education.
Rajalakshmi Engineering College has a dedicated placement cell that facilitates campus placements
Yes, Rajalakshmi Engineering College promotes research and innovation. It encourages students and faculty members to engage in research activities, publish papers, and participate in conferences and workshops.