Manufacturing engineering as a career branch deals with the proceedings of giving valuable inputs by sharing designs and conceptualised concepts in different areas like mechanical, chemical, electrical, and industrial manufacturing. The aim or objective of manufacturing engineering working professionals is to in-depth research and development of over the top-quality commodities. Mechanical engineers are responsible to turn waste or raw material into a cost effective, efficient and dynamic product by toiling on it. 
What is the role of manufacturing Engineering?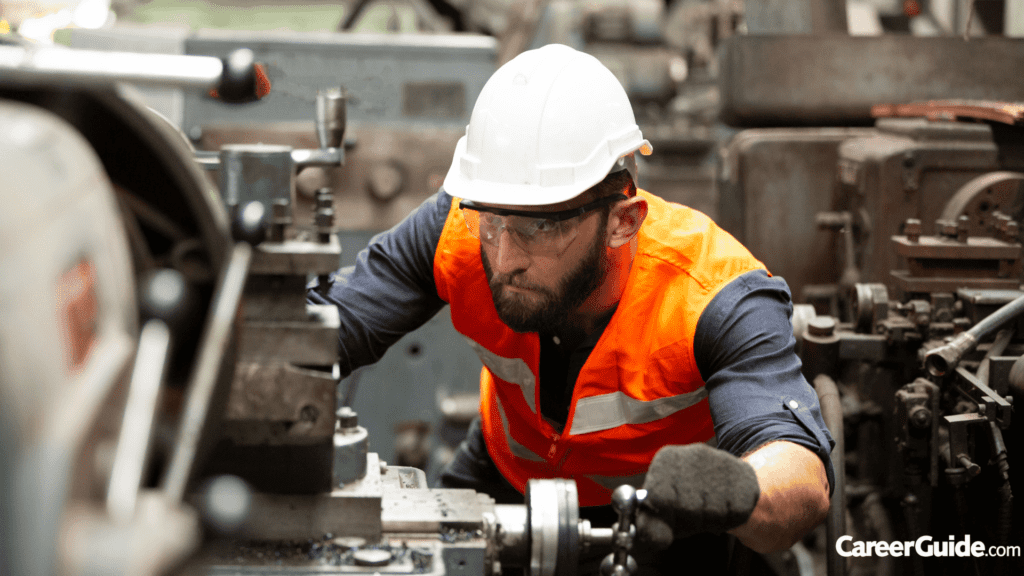 Manufacturing engineers have a variety of duties to perform. He or she is principally in charge of supervising the manufacturing processes and activities. The position entails raising manufacturing productivity. An engineer who works in manufacturing evaluates and plans workflow, space needs, and equipment arrangement. He or she is a crucial member of the group responsible for planning, setting up, supervising, and developing manufacturing machinery and assembly lines in factories or production facilities. Integrating the entire production process is the responsibility of a manufacturing engineer. He or she strives to provide the most high-quality items possible while cutting costs as quickly as possible.
NIRF top engineering colleges 2023
Equipment installation and design require the expertise of a manufacturing engineer. He or she tests efficient manual and automated systems in addition to creating new items. Applying practical product design expertise is a key component of the job of a manufacturing engineer.
A Manufacturing Engineer's job involves assessing the current manufacturing workflows and processes to determine where improvements might be made. He or she sets up a productive and successful workflow.
Observing safety regulations
Ensuring adherence to the rules of environmental protection and safety is part of the job of a manufacturing engineer. He or she uses modern technology to update systems and procedures.
Collaboration with other experts, including engineers, contractors, and suppliers, is necessary for a manufacturing engineer. He or she must make sure that attendees are present at brainstorming sessions and interdepartmental gatherings.
A manufacturing engineer must identify ways to increase productivity while lowering costs and improving quality. To satisfy performance quotas and financial objectives, he or she is in charge of developing systems and procedures.
For instance, manufacturing engineers are the key players who created 3D/4D printing concepts, nanoelectromechanical systems, self-controlled automobiles, hyper loops and many more to serve their respective countries to bring the essence of development. Here is the list of some rewards of having manufacturing engineering as a career:
download Universities/colleges cutoff
MANUFACTURING ENGINEERING JOB OPPORTUNITIES
Organizations at present understand the significance of manufacturing engineers keeping watch. Firms are enrolling mechanical specialists and freshers who probably won't have hands on experience yet to persuade and update their aptitudes firms are giving them steady training so they can serve association above and past. Various organizations hope to recruit experienced manufacturing engineers from the earliest starting point or they advance manufacturing engineers related with their firm. Thus, in the wake of seeing such a situation we can get a theoretical idea regarding the significance of the manufacturer in the current situation.
FLEXIBILITY AND WORKPLACE ADVANTAGES
Greater part of the manufacturing engineering as a career has the alternative to pick 9-5 standard good old timetable or they can have odd hours. To be sure, other workplace favourable circumstances are that you can take leaves for journey purposes, assurance benefits, and so forth Organizations have made their brain to enlist immaculate manufacturing engineers for their gathering, through which they can sort out some way to make additionally welcoming new position openings by remunerating manufacturing engineers with various assets and advantages.
EXCEPTIONAL PERKS AND PRIVILEGES
A mentioning industry like manufacturing engineering as a career which is loaded up with heaps of enchanting challenges doesn't have that various manufacturing engineering potentially to meet the essential expectations for the firm. New quick and dirty reports portray the yearly heap of manufacturing engineers which generally turns around $83,500. In any case, it completely depends upon the capability and the mastery of the applicant. Your compensation group can be close if you are starting to investigate manufacturing engineering careers and later it may augment subject to your presentation. In case you show your best displays via carefully holding fast to the standards, objective and standards of the firm at that point organizations will never abandon you. Subsequently, if you are continually passing on your task by keeping up its standards, at that point it is best for you and your career.
Manufacturing engineering as a career is basically a complete level in light of the fact that there are no levels. The innovative movements are continually happening and there is a parcel to investigate for learning and expanding your points of view. Along these lines, being in the manufacturing engineering field can be useful for up-and-comers who need to seek after this as a creative career decision. This manufacturing engineering vocation prods you to immediately acquaint with the statutes and overhauls in the current innovation.
NIRF top engineering colleges 2023
GLOBAL RECOGNITION AND FREELANCING OPPORTUNITIES
Like a couple of various callings, this has no topographical cut off points checks. Actually, well-famous overall manufacturing engineering as a career associations will in general recruit from the entire way across the globe. Regardless of whether it is the United States, UK, France, Canada, Norway, Netherlands, and so on These recorded nations are prepared to recruit innovative manufacturing engineers from across the globe. The significant explanation for this sort of utilization is the absence of talented labour and undertakes broader prospects. If there are no topographical blocks, at that point essentially gathers that manufacturing engineering re-appropriating openings are in like manner accessible where you not will without a doubt give full-time. By and by the pattern of menial assistant has built up its foundations in this manner, working with clients distantly is the new display which is trailed by new age.
SATISFACTORY AND RESPECTABLE OCCUPATION
It is accepted that the greatest advantage of ending up being manufacturing engineering as a career is that you are following your energy by making, creating and fabricating new overhauled manufacturing emotionally strong organizations. This inclination is past your assumption. Likely enormous number of endeavours are utilizing your standard items for various purposes and afterward you get fantastic feedback. Truth be told, it is a subsequent which means manufacturing engineers. You will get a tremendous number of advantages and your experience and qualities will be penetrated by others and can give you an ideal level of satisfaction.
download Universities/colleges cutoff
How would you describe the working atmosphere for a manufacturing engineering as a career?
Manufacturing engineering as a career typically operate in an office or a production environment, such as a factory, an oil/gas production facility, or a manufacturing plant. They are responsible for creating the systems that enable production. The majority of the time that manufacturing engineers are employed is spent looking up design layouts and maintaining these systems. They are in charge of making sure safety procedures are followed.
Travel is necessary for a Manufacturing Engineer?
A manufacturing engineer works on a production line or in a factory. The amount of travel is dependent on the organizations hiring. There may be a need for several Manufacturing Engineers to travel frequently.
Work Schedules: Full-Time, Part-Time, and Remote
In most cases, a manufacturing engineer works full-time. His or her working hours range from early in the morning to late at night. In this vocation, there are no on-call, work from home, or hourly employment shifts.
Contractual, Permanent Employment
Both contract and permanent employment prospects are found by a manufacturing engineer. Through employment portals like LinkedIn, Indeed, Naukri.com, and Monster, one can locate a variety of Manufacturing Engineer career possibilities that suit their needs.
Office buildings, manufacturing facilities, and factories
A manufacturing engineer works in a workplace like a factory, office, or production facility.
Geographical Area Presence
Urban, semi-urban
Employment prospects for Manufacturing Engineers are booming in urban regions. Numerous Manufacturing Engineering opportunities are available in cities like Pune, Chennai, Bengaluru, and Hosur. Manufacturing engineers who work in Bengaluru earn salaries that are 48% higher than the national average.
A Manufacturing Engineer must guarantee work completion within the allotted time. He or she works under time pressure.
People who work as manufacturing engineers may have to put in extra time for emergencies or unique projects.
Weekly Work Hours Minimum 40 Hours
At least 40 hours are put in by a manufacturing engineer each week. His or her working hours might occasionally increase.
How can you turn into a manufacturing engineer?
Candidates must get at least 50% of the requisite marks in physics, chemistry, mathematics, and computer science in their 10+2 from an accredited board in order to pursue a career as a manufacturing engineer.
Aspirants may take entrance exams held by colleges, universities, state and national level examination conducting authorities after taking the 10+2 exams.
NIRF top engineering colleges 2023
Manufacturing engineering candidates may enrol in undergraduate programmes after passing their 10+2 exams. The most sought-after degrees for Manufacturing Engineers are B.Tech. or B.E.
A candidate with a degree in manufacturing engineering has a wide range of employment opportunities available to them.
Option 1: After finishing their undergraduate Manufacturing Engineer programme, candidates can enroll in a postgraduate Manufacturing Engineer programme. After finishing their academic training, individuals may begin working in the sector in an entry-level capacity.
Option 2: They may start working in the industry in an entry-level job after successfully completing the undergraduate Manufacturing Engineer degree. After gaining a few years of work experience, students could enroll themselves in a postgraduate Manufacturing Engineer degree. The M.Tech. is the preferred postgraduate degree for Manufacturing Engineers.
download Universities/colleges cutoff
Career Profile of manufacturing engineering as a career
Manufacturing engineering as a career is the broader field and diversified in India. It has deepened its roots in numerous countries and its rising demand and professional activities achieved massive popularity in the current scenario.
The nature of the job for mechanical engineers are listed below.
Interpreting the mechanical and thermal apparatuses, extracting out the glitch or problem and then to resolve it by implementing valid solutions.
Relying on computer designs for attaining comprehensive overview.
Innovating a testing model.
Examining the outcomes of tests and incorporating changes accordingly.
Creating and enhancing skills to build effective communication to reduce the chances of misconceptions.
Manufacturing engineering as a career profession incorporates numerous activities in itself other than creating effective products. There is an abundance of scope in manufacturing engineering. Students after 12th class can pursue manufacturing engineering courses in various disciplines which suits them most. 
Design And Operation Scope Of Work
A manufacturing engineering as a career scope of work entirely focuses on the design and operation of the integral parts of the products or systems. Systems like computer networks, robots, machine tools, material supporting devices are dependable for the development of highly standardized and cost-effective competitive commodities.
Emerging New Technologies And Enhancements Scope Of Work
As a intrigued part of their occupation, manufacturing engineering as a career of working professionals must always maintain a constant pace with the technological fruition in the discipline to ensure that they will offer their customers with the excellent innovative advanced products.
Steps To Become Manufacturer Engineers
To become an exceptionally experienced manufacturing engineer in the discipline you must have to fulfil several necessities in order to pursue it as a main profession. You have to attain a Bachelor's degree in manufacturing engineering which is usually essential.
It is normally witnessed that several mechanical engineers at the beginning try to become manufacturing engineers which is not the case. Most of the manufacturing engineers have said that beginning from other specialised disciplines such as production engineering can be beneficial in offering supplementary educational expertise for futuristic prospects in manufacturing industries.
NIRF top engineering colleges 2023
What abilities and traits are necessary to work as a manufacturing engineer?
There are some quintessential handful of attributes or capacities, if gained good command on it then this field can be the best profession for you. Further you will also become a perfect asset for the firm on which firm can rely. This will also increase your value in the film. These abilities are essential for continuing to function well at work.
Problem-solving abilities: A manufacturing engineer needs to be able to fix issues that arise during a manufacturing process and cause delays. He or she must evaluate the advantages and disadvantages of the substitute solution.
Strong communication skills are necessary for a Manufacturing Engineer's employment in order to work with other professionals, interact with team members, and explain processes, among other things. In order to keep track of actions, he or she must also document them.
Organizing abilities are necessary for the job of a manufacturing engineer. By planning operations, imparting training, and supervising the work of other employees in the organisation, he or she is expected to plan initiatives.
Technical Knowledge: A Manufacturing Engineer needs to be proficient in using a variety of tools, machinery, and technology. He or she must be able to handle and use a variety of tools and equipment.
Before beginning full-time employment, candidates who wish to pursue a career as a manufacturing engineer must choose an internship. To be eligible for internships, students must be enrolled in or have already graduated from a Manufacturing Engineering or closely related school. An internship in manufacturing engineering is essential to comprehend the complexities of the sector and how it operates. Studying performance loss is one of the interns' many duties. Additionally, he or she names one or more crucial initiatives to help them meet their performance goals. The intern in Manufacturing Engineering's job involves developing strategies for handling technical problems. Tools for production management tool implementation and maintenance were systematized.
download Universities/colleges cutoff
Manufacturing Engineer Career Progression
Candidates who want to work as manufacturing engineers must launch their careers by earning the necessary academic credentials. Additionally, they must select a Manufacturing Engineering internship. The likelihood of landing a permanent job increases with a Manufacturing Engineering internship. An individual moves up to a senior-level Manufacturing Engineer position after gaining expertise in the field.
Junior Manufacturing Engineer: To design, construct, and ship a variety of products, a junior manufacturing engineer continues to be active in research and development. He or she chooses how to use machinery and equipment most effectively.
Senior Manufacturing Engineer: An expert tasked with putting together the line workers and maximizing productivity is known as a senior manufacturing engineer. He or she chooses the proper equipment for the job. An experienced manufacturing engineer instructs staff members on the use of both new and old technology.
What is the future of the Manufacturing Engineer profession?
With the advent of Machine Learning and Artificial Intelligence, the field of Manufacturing Engineers is continually changing. In order to increase industrial productivity, it entails collecting more data for the production operations. Distributed manufacturing, which involves assembling finished goods as they approach their final destination, is another well-liked innovation. With its assistance, businesses can lower the price of shipping goods and improve customer responsiveness
Frequently Asked Questions
Important skills for a manufacturing engineer include knowledge of manufacturing processes and systems, proficiency in process optimization and improvement techniques, strong problem-solving and analytical skills,
Manufacturing engineers play a vital role in quality control by developing and implementing quality control plans, conducting statistical process control, analyzing data to identify quality issues
Manufacturing engineers have a range of career prospects in various industries, including automotive, aerospace, electronics, consumer goods, and pharmaceuticals. They can work in roles such as process engineer
Manufacturing engineers contribute to product design and development by collaborating with product designers to ensure manufacturability, conducting design for manufacturability (DFM) analyses