Internet and connectivity is an integral aspect of today's world. We can't imagine life or a business without the internet and to keep things functional. The world has become a smaller place with connectivity and it has been made possible by Network Engineers.
India is an IT hub and is evolving much more in recent times. All the Information technology enthusiasts are aware of the fact that the Network Engineering career is trending and is a hot topic today. The scope of networking is massive in IT hubs like India. Companies like HCL, Wipro, TCS, Tech Mahindra, and Infosys are always on the lookout for skilled and qualified Network Engineers.
NIRF top engineering colleges 2023
Who are Network Engineers?
Currently, network connectivity is an important part of running business operations. These engineers are responsible for the establishment and maintenance of network connections and operating systems. They provide an indispensable tool for businesses and customers for allowing the smooth running of their operations.
For communication between users, network engineers enable data to pass between computers in a network. Also called Network Architects, these engineers plan, construct and manage networks and make sure that those networks are functioning and optimized.
You are responsible for laying the foundation of the entire organization's IT system. Based on a company profile, you will be required to design and implement physical and wireless networks, troubleshooting any issues, researching and later integrate new technologies.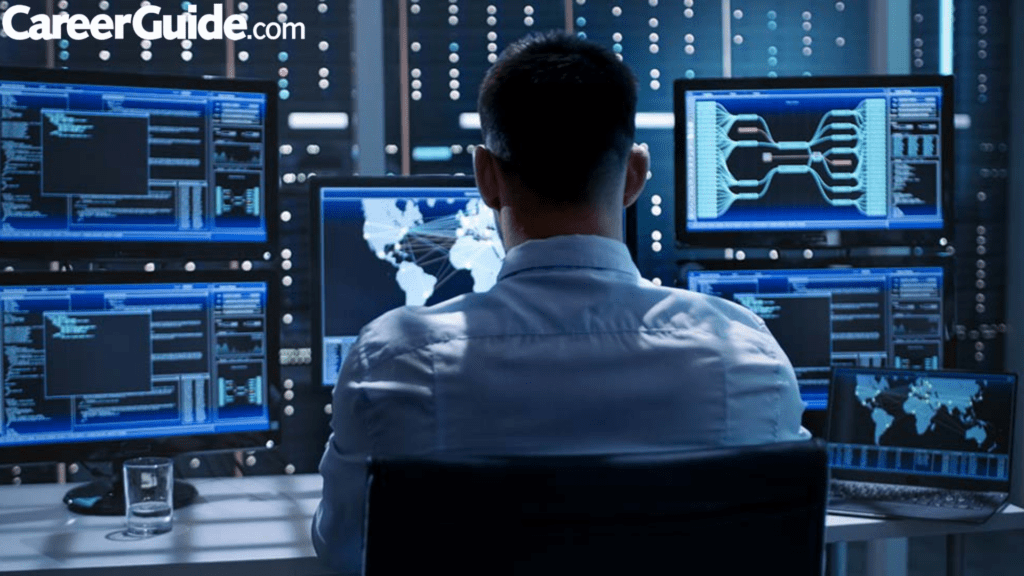 The following are some of the responsibilities of a Network Engineer.
Ensures that the system meets internal standards by configuring those systems and network devices.
Documentation of network design, monitor the network performance and take necessary steps to prevent downtime.
Optimize network performance and ensuring network security.
Based on the business needs, provide network programming services.
Always put the

network firewalls

and security systems up to date.
Installation, configuration, testing and maintaining networks, servers, related applications and workstations and troubleshooting any network problems.
Work closely with other engineers for planning and implementation of computer networks in professional settings.
A Network Engineer should possess the following skills to be successful in his field.
Excellent communication and teamwork skills.
Analytical skills and critical thinking ability.
Proficient in Local Area Networks (LANs), proxy servers and required hardware that makes a system functional.
Network Infrastructure and Firewalls.
Switching and routing protocols.
Education and Eligibility
Complete 10+2 in Math, Physics and Chemistry (PCM) stream with a minimum of 50% from our recognized board.
Pursue your bachelors in network engineering preferably or computer sciences or information technology after qualifying the entrance exams like JEE mains and

JEE Advanced

.
For better career prospects, complete your masters in Network Engineering.
Certain certifications are required, that are most sought by employers like:
Juniper Certification.
CompTIA Certification.
Wireshark WCNA Certification.
SolarWinds Certified Professional Certification.
The following are the top colleges in India that offer network engineering and other courses in networking for aspirants.
Indian Institute of Hardware Technology, Bangalore.
ApTech Training Institute, Pan India.
Jetking, Mumbai.
Rooman Technologies, Bangalore.
Avera Academy, Mumbai.
Institute of Computer Technology and Engineering, Lucknow.
Cloud Networking Architects.
Network Security Specialists.
Engineers for VoIP, telecom and data centres.
The following are some of the networking jobs available: 
Network Specialist
Network Administrator
Network Technician
Network Analyst
Network Manager
Network Engineer
Network Solutions Architect
The following are the networking giants across the globe that employs network engineers. Some of them are:
Microsoft.
Juniper.
Intel.
IBM.
Sophos.
HCL etc.
NIRF top engineering colleges 2023
Salary and Career Outlook
The average yearly salary of Network engineers in India is around INR 6-8 LPA and across the world, it is $50,000- $60,000.
As the networks and systems are getting complex day by day, there is a huge demand for them in different sectors like telecom domain, hospitals, defence, IT sector, hospitality and other sectors. This demand will increase at a rapid rate in future as companies are looking for skilled and qualified network engineers.
These engineers can work in Multinational companies and commercial enterprises. After gaining sufficient experience, you can get promoted to Network Manager and later Network Administrator.