Cambridge is the famous, well-known, and second oldest university in English-speaking countries and the fourth oldest university in the world. It was established in 1209 in England's Cambridge city. This university has won more than 100 Nobel prizes in different categories. Renowned persons like Charles Darwin, Sir Isaac Newton, Stephen Hawking, and Sir Mohammad Iqbal pursued courses from here. Cambridge University has 31 colleges and 11,000 staff in six schools.
There are a hundred academic departments altogether making the campus of Cambridge. The academic level is fifth in the world. Students can get admissions in under graduation, graduation, and research courses. Streams cover all different subjects; it has a total of 65 subjects including literature, engineering, medicine, language, management, etc. In some courses university has the first rank, but not in all courses. Students should check course details before applying.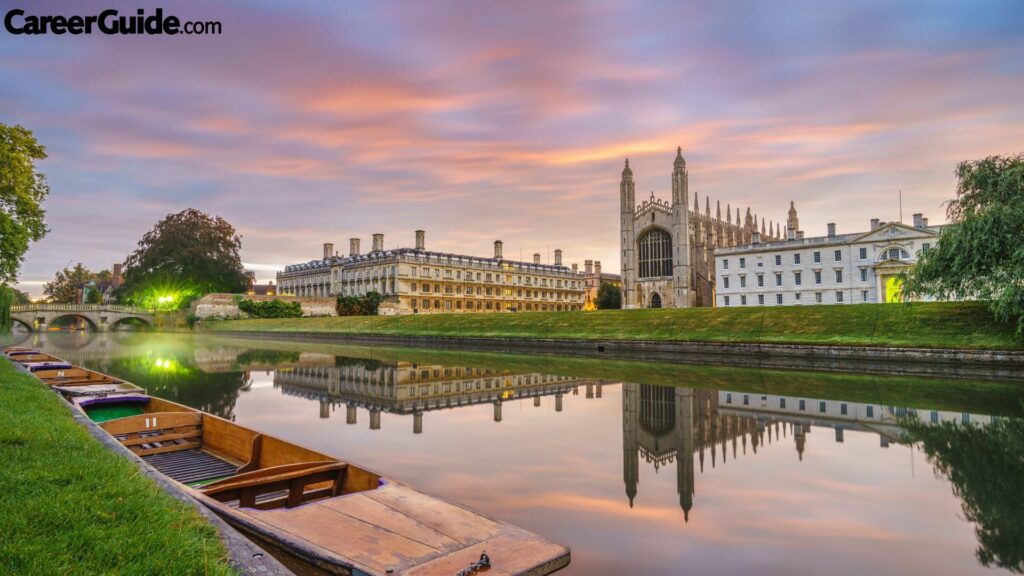 Because of its excellence in academics and its long history, students from more than 65 countries come to Cambridge for admissions. Fully funded scholarships are only offered in few countries such as Hong Kong. If you don't get any scholarship or stipend then you will find this university more costly. Because there are activities, food and social aspects are available within the college. Though it is funded for research from high-tech companies it is still costly.
Courses have different fees. If you are interested in arts your course fees will start from 20 lakhs. If your subject is mathematics your fees will start from 21 lakhs. If your subject is architecture, music or geography your fees start from 23 lakhs. If you are interested in engineering and management then your fees can go up to 30 lakhs. There are living costs and other costs too. Scholarships are also hard to get at Cambridge University.what to do after 12th.
Eligibility For Admissions
Before getting into any course students should go to the university's official website and check out the details and requirements of the interested subject. Qualifications are almost the same but not the same it varies from course to course. Here are eligibility criteria for students:
Students should be 18+ and 12th passed with top grades. You need 95% in five subjects if you are from the state board. For CBSE applicants A1 grade in five subjects.
If students have an IIT JEE Advance ranking under 2000 then it will be a plus point.
If you have an AP (Advanced Placement) test score above 5.
If you want to do any course with mathematics you need a STEP (Sixth Term Examination Paper) score.
English language requirements for international students. They need to take any one of the English tests like Cambridge English University test or if you are giving TOFEL than a minimum 110 TOEFL score or IELTS score above 7.5.
If you are interested in engineering then there will be a written admission test. You need to give either a pre-interview or an interview on a date provided to you.
Applications can apply forms in two ways. The first way is through an open level and the second on college-based. On the open level, you can do any course in any college. In college, you need to go to a particular college's official website and fill in the requirements. Students need to apply for COPA (Cambridge Online Preliminary Application), which you can apply for from July to October. Then in early September, you need to give another application to UCAS (University and College Admission Service) and SAQ (Supplementary Application Questionnaire). These applications will help you with scholarships. You need to submit all the requirements by 15 October. After submitting all the forms you will get your interview and exam dates and you will get the result in January. Depending on the number of forms and The competition you will either get a college of your choice or the college you are eligible for.

Cambridge offers many scholarships to students for different types of academic fields. More information can be found from the Cambridge Trust organization page made to provide students guidelines. You need to fill in your country name and degree level in search for scholarships form and you will get the results. Here are some of the scholarships:
FAQ About Cambridge University
Q: How many colleges are there in Cambridge University?
A: Gather study materials: Acquire study guides, practice books, online resources, and sample papers specific to your exam. These materials can provide valuable insights and practice opportunities. Create a study schedule: Develop a realistic study plan that allocates sufficient time for each section or subject. Regular and consistent study sessions are key to success.
Q: How can I improve my English language skills for entrance exams like TOEFL and IELTS?
Read a variety of English texts such as newspapers, magazines, novels, and online articles. Focus on comprehension, vocabulary building, and understanding different writing styles.  Learn new words and their meanings regularly. Use flashcards, vocabulary apps, or online resources to expand your word bank. Listen to English podcasts, audiobooks, movies, and TV shows. Pay attention to pronunciation, intonation, and understanding spoken English in different contexts. Practice speaking English with native speakers or language exchange partners. Join English conversation groups, participate in debates, or engage in language practice apps to improve fluency and confidence.