People are passionate about a variety of things. If you enjoy traveling

, you have come to the correct place. To work as a travel presenter, you must be a self-assured, outgoing someone who enjoys being in front of the camera. A travel presenter's work is distinct from other travel jobs. Continue reading to learn how!!
Travel & Tourism Management Syllabus
A career as a travel presenter can be an exciting and rewarding one for individuals who love to travel and have a passion for sharing their experiences with others. A travel presenter, also known as a travel host, is responsible for presenting and showcasing various travel destinations and experiences to viewers through various media channels, such as television shows, YouTube videos, podcasts, and social media.
What Is The Role Of A Travel Presenter?
Several online and offline networks broadcast shows in which a person travels to foreign locations and provides viewers with information on the culture, cuisine, and landmarks to see. This individual is known as a travel presenter. Travel presenters

 are required to spend a specified amount of time in each city and visit the city's most notable attractions.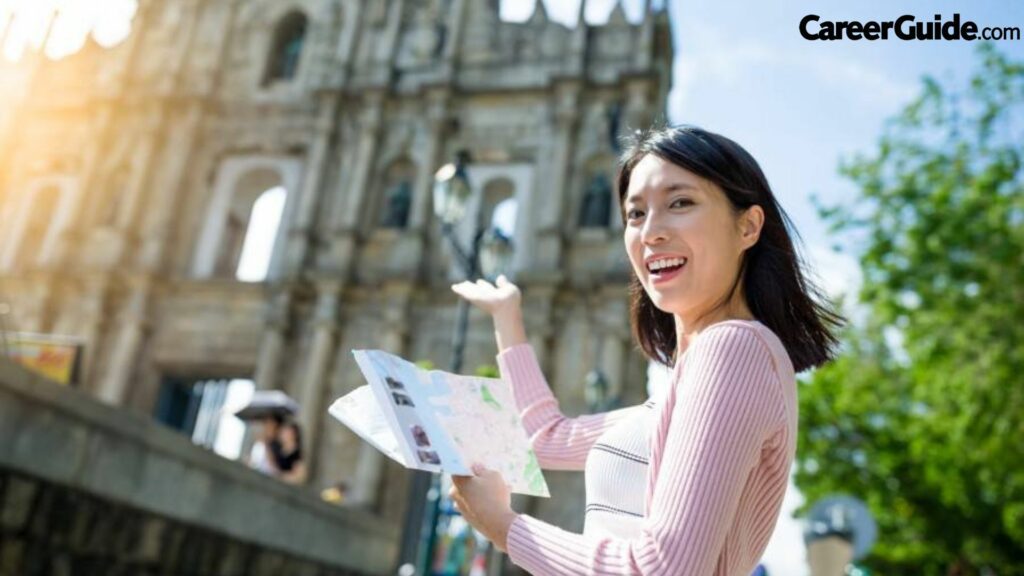 It is ideal for those who enjoy travelling, and it is as thrilling as it sounds! Daily, travel presenters get to meet new people, sample unique cuisine, stay in luxury hotels and learn about other cultures in addition to seeing new destinations.
Travel & Tourism Management Syllabus
To Work As A Travel Presenter, What Kind Of Education Do You Need?
To work as a travel presenter, you don't need a certain educational background. You will, however, have an advantage over your competitors if you hold a degree in journalism or mass communication degree. You can even take an online course to become a qualified professional television host.
However, hiring managers value communication skills and previous experience for this position more than their educational qualifications. You must be a vibrant and confident individual in addition to being fluent in the language of the show. Nobody wants to see or listen to a nervous or confused presenter.
What Are The Prospects For This Professional Path In India?
The travel and tourism

 sector has exploded over the world in recent years, and India is no exception. On Indian television, there are various travel programmes. Highway on my plate (NDTV Good Times), Yatra, Style and the City (Fox Traveller), Food Highway (TravelXP), and It Happens Only in India are just a few of them (Fox Traveller).
Several Indian travelling programmes in addition to these TV programmes require travel presenters. Way back home, The journey, Away from home, TVF Asia, Under the rupee, and GotaadoIndia are some prominent web programmes in the travel category. As you can see, there are several travel shows on the air.
Travel & Tourism Management Syllabus
You may make your way into this fast-growing industry if you have the determination and the correct attitude. For tourist and business purposes, an increasing number of individuals are travelling within India and beyond. For this reason, Indians of all ages are searching the internet for information about travel and tourism

.
Even as you read this, the amount of travel-related information being consumed on the internet is expanding, from economical places to stay to fascinating places to eat. As a result, there is plenty of travel employment available! Production companies are developing a variety of travel shows to appeal to a variety of audiences.
Is It Possible To Make A Decent Life As A Travel Presenter?
Travel jobs are more lucrative than you might expect! A rookie travel presenter can expect to earn between 5-7 lakhs per year on average. Have 5 years of relevant experience and a certificate to prove it? You can expect to earn between 12 and 15 lakhs each year!
All types of travel employment are enjoyable. But being a presenter is incredible! Travel presenters

 not only get to take home a nice bundle, but they also get to travel the world, meet new people, and experience different cultures at no expense to themselves. We don't know what the good life is if this isn't it!
Travel & Tourism Management Syllabus