Does the thought of the depths of the ocean often make you wonder in curiosity about the marine world underneath? Do you like studying and researching about oceans? Are you a person who likes scuba diving? Then maybe you would want to consider a career as an oceanographer. Oceanographers study about not just oceans, but their surroundings and behavior as well. Read this article to know all about what oceanographers do as part of their job, and what career path you should become an oceanographer yourself.
What Are The Types Of Oceanographers?
Depending on the subject of specialization and focus of their job, oceanographers are usually classified into four broad categories –
Biological oceanographers – the main focus of biological oceanographers is to study the kinds of living organisms of the oceans, – the behavior, physiological processes, food habitats, and the effect of different environments on these organisms.
Chemical oceanographers – they study about the different chemical aspects of oceans like atmospheric constituents, pH levels, sediments, metamorphic activity, as well as ecological issues like ocean acidification and their impacts.
Physical oceanographers – their focus of study is about waves, currents, tides, the temperatures, tectonic plate movement and all other relevant topics.
Geological oceanographers – oceanographers socialized in geology study about the ocean floor and their structures like sea trenches, coral reefs, underwater volcanos and vents.
Physical oceanographers: They study the physical properties of the ocean, including temperature, salinity, currents, and waves. They focus on understanding the dynamics of ocean circulation and how it affects climate and weather patterns.
Chemical oceanographers: They study the chemical composition of seawater, including the distribution of nutrients, gases, and pollutants. They investigate the impact of human activities on the chemistry of the ocean and its ecosystem.
Biological oceanographers: They study marine life, including the behavior, ecology, and evolution of marine organisms. They investigate the impact of environmental changes on marine ecosystems and the role of the ocean in global biogeochemical cycles.
Geological oceanographers: They study the geological processes that shape the ocean floor, including plate tectonics, volcanism, and sedimentation. They investigate the history of the ocean and its role in shaping the Earth's climate and environment.
What Are The Job Responsibilities Of An Oceanographer?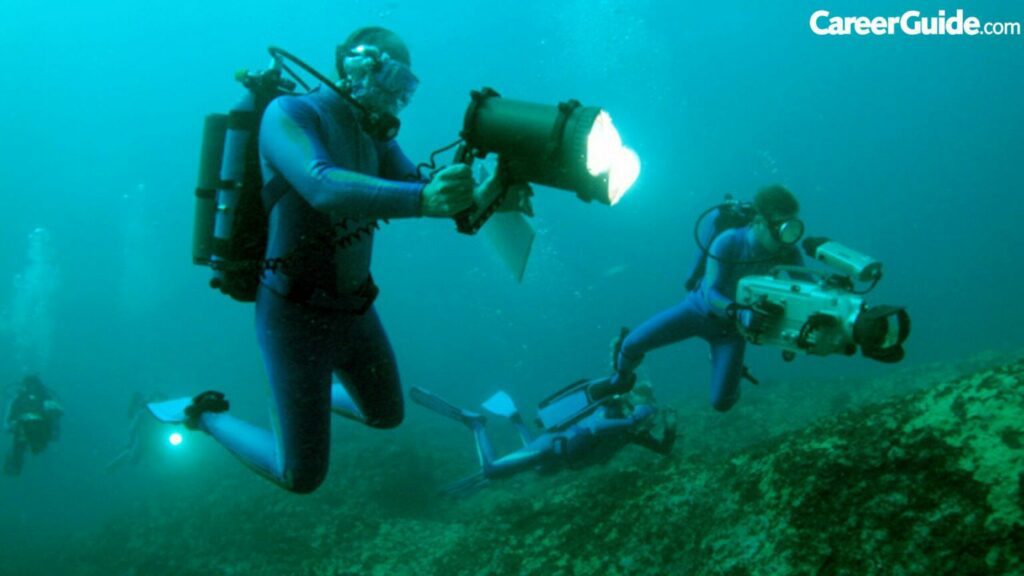 Those responsibilities of an oceanographer vary from specialization and particular organization, the following are some tasks in a typical day of an oceanographer – 
Field research trip planning, organization, and taking leadership of the same, if required
Using technology like remote sensors, marine robots, and towed or self-powered underwater vehicles, for collecting field samples and data at sea 
Data collection, analysis, and interpretation from samples and remote sensing devices 
Analyzing field sample in a laboratory using specialized equipment to understand the various forms of biological life present as well as the mineral composition of the water
Simulating water phenomena using numerical/ computer modelling tools 
Making forecasts regarding trends and drawing conclusions using numerical/ statistical modelling 
Delivering presentations and giving talks about the studies done
Taking part in relevant oceanographic conferences, workshops, training courses, and field excursions 
Staying abreast with scientific and research advances in marine research and technology
Writing research proposals, research papers, funding bids, reports and reviews.
Conducting research: Oceanographers conduct scientific research on various aspects of the ocean, such as its physical, chemical, and biological properties, to better understand oceanic processes and the effects of human activity on marine ecosystems.
Collecting and analyzing data: They collect samples of water, sediment, and marine organisms using specialized equipment and analyze the data to draw conclusions about the state of the ocean and its impact on the environment.
Developing models: They use the data collected to develop computer models to predict oceanic behavior and to help improve our understanding of climate change and its impact on the ocean.
Communicating research findings: Oceanographers often present their findings at conferences, publish their work in academic journals, and communicate their findings to the public to increase awareness of environmental issues affecting the ocean.
Conducting fieldwork: Oceanographers may conduct fieldwork on research vessels, submarines, or underwater vehicles to collect samples and gather data on the ocean.
Managing projects: They may also manage research projects, oversee budgets and funding, and supervise other researchers and technicians.
Collaborating with others: They often collaborate with scientists from other disciplines, such as meteorologists, ecologists, and chemists, to gain a more comprehensive understanding of the ocean and its interactions with the rest of the planet.
What Are The Qualifications Needed To Become An Oceanographer?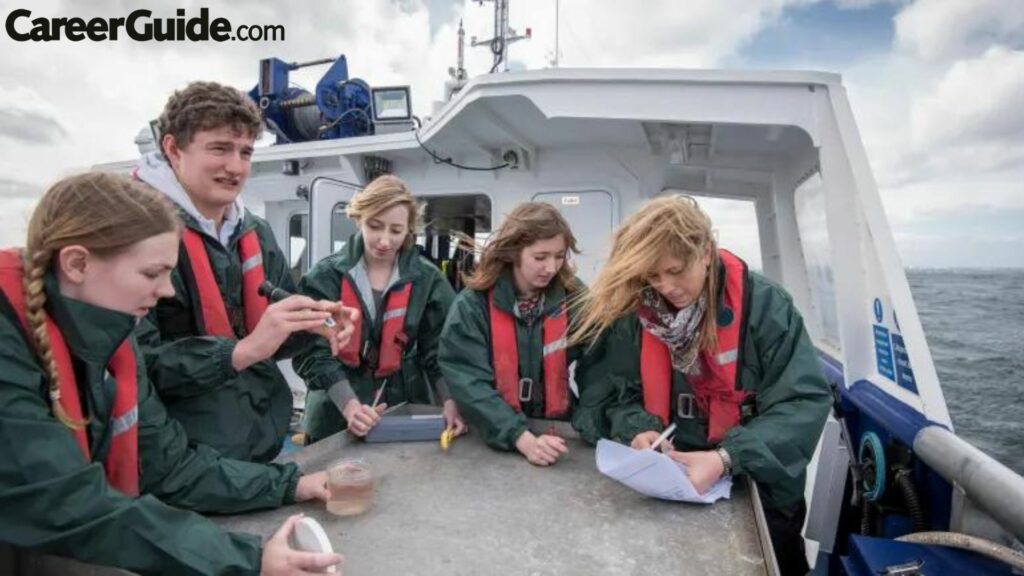 For become an oceanographer, it is mandatory to take science stream with Mathematics, Chemistry, Physics and preferably Biology at 10+2 level. At under graduation, there are many subjects you could choose from to do a B. Sc. in, some of them include – Zoology, Chemistry, Earth Science, Physics, Fishery Science, Microbiology, Botany, or any other Applied Sciences. You could also choose to do a B. Tech. degree in subjects like Biotechnology, Environmental Studies or Civil engineering. 
After completion of a under graduation degree, the options for post-graduation are listed below.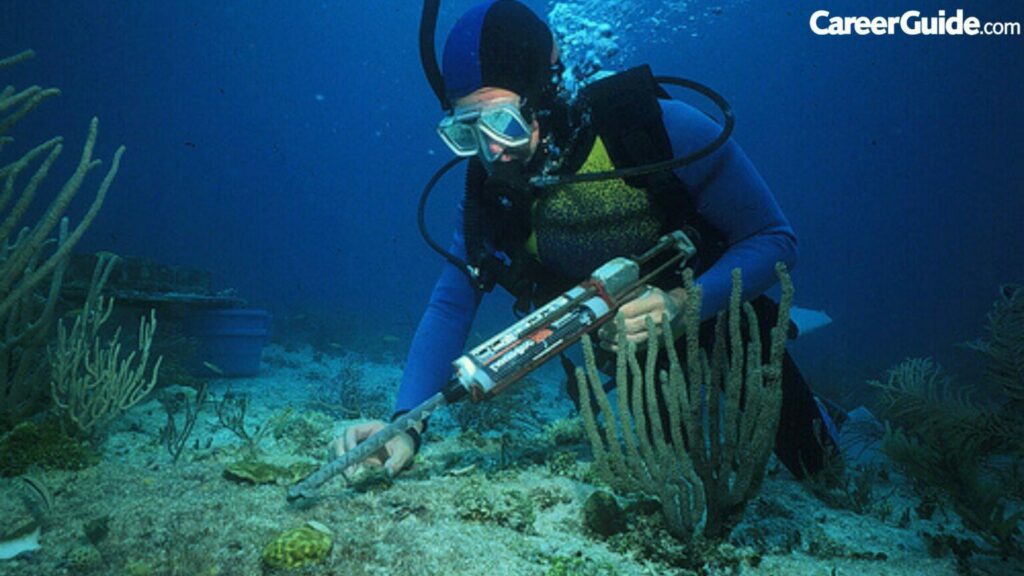 Master of Science (M. Sc.) in Oceanography
Master of Science in Marine Biology 
Master of Science in Marine Biotechnology
M. Tech in Ocean Engineering
M. Tech in Ocean Technology
For M. Tech. courses, a valid GATE score is required, while for M. Sc. various entrance exams like JAM, CUCET, GAT-B are conducted, depending on the institute and particular course offered there. If you want go into research, or academia in this subject, a Ph. D. with a specialization on a relevant topic is required. For getting admission into Ph. D. courses, a valid score in national level exams like UGC, CSIR, DBT etc. is required. 
Some of the top institutes offering courses at UG, PG, and doctorial level include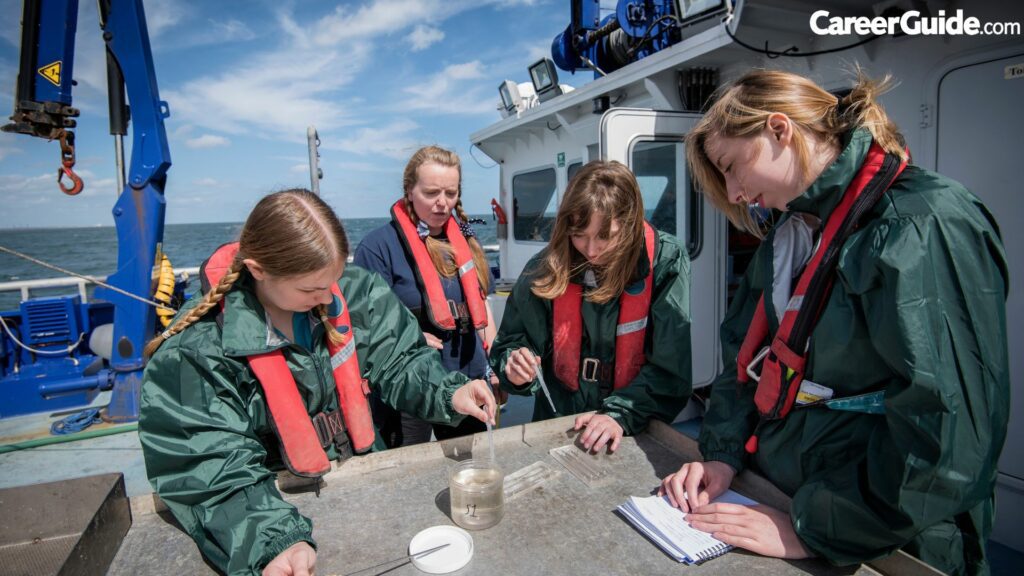 National Institute of Oceanography, Panaji
Indian Institute of Technology, Madras
International Maritime Academy, Chennai 
Andhra University, Vishakhapatnam
Annamalai University, Tamil Nadu 
Berhampur University, Berhampur
Cochin University of Science and Technology, Cochin 
Goa University, Goa
Mangalore University, Mangalore 
Where Are Oceanographers Employed?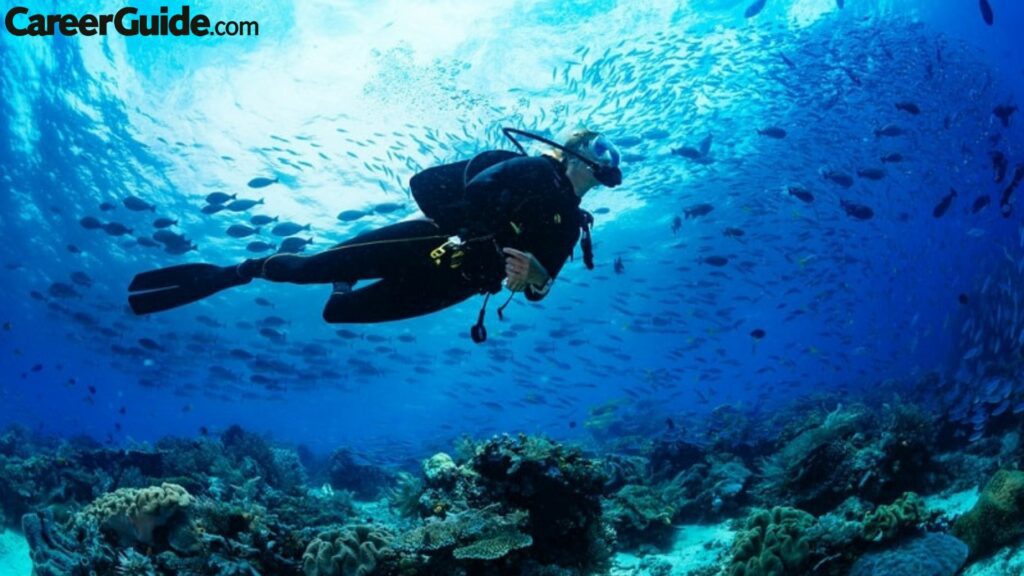 Some of the institutes and sectors where oceanographers are required include –
Department of Oceanography 
Geological Survey of India
Meteorological Survey of India
Oil India
Research laboratories
Companies in corporate private sector working on marine products or research 
The ocean has so much of untapped potential and untouched territories in it. It is still a fascination to mankind even after centuries of research. When you become an oceanographer, you not just study about oceans, but understand them at a higher, spiritual level as well.
FAQs About Study Oceanographer
Ideal Career Test™ is suitable for person of any age group who is interested to discovering the right career options. The test report will help you to identify and explore career in order to get started in career search or change of career, it helps to identify strengths and potential weaknesses for the career search. To plan career goals and action steps.
An ideal career test is a tool designed to help individuals identify their strengths, interests, and personality traits in order to determine potential career paths that may be a good fit for them. These tests typically involve a series of questions or assessments that help individuals explore their skills, values, and preferences and match them with potential career options.
Ideal career tests work by asking individuals a series of questions designed to assess their interests, values, personality traits, and skills. The answers to these questions are then analyzed and matched with potential career paths that align with the individual's strengths and preferences. Some tests may also include additional resources or guidance to help individuals explore potential career paths further.
The reliability and accuracy of ideal career tests can vary depending on the specific test and its methodology. It is important to choose a reputable test that has been validated through research and has a proven track record of success. However, it is also important to remember that ideal career tests are just one tool in the career exploration process and should be used in conjunction with other resources and guidance, such as career counseling or informational interviews.