To begin, one must first understand what online psychometric test are. In layman's terms, psychometric tests are non-academic assessments of your personality, skill set, interests, strengths, weaknesses, and much more. Psychometric Career Test. The second wonderful characteristic of psychometric tests is that they are accessible to people of all ages and may be used for a variety of purposes, ranging from school children to college students to working professionals. Benefits Of Online Psychometric Test For Professionals. 
The examinations are constructed in such a way that they do not assess subject knowledge, but rather a collection of behavioural abilities such as verbal ability, logical thinking, basic math analysis, and so on. The focus of this article will be on online psychometric test for working professionals and how they might profit from them. First, let's see what psychometric examinations are offered for working professionals.
A career selector test is a type of assessment that helps individuals identify potential career paths based on their interests, skills, values, and personality. These tests often use questionnaires or assessments to gather information about an individual's strengths, weaknesses, and preferences, and then use this information to generate a list of career options that are a good fit.
Ideal career selector test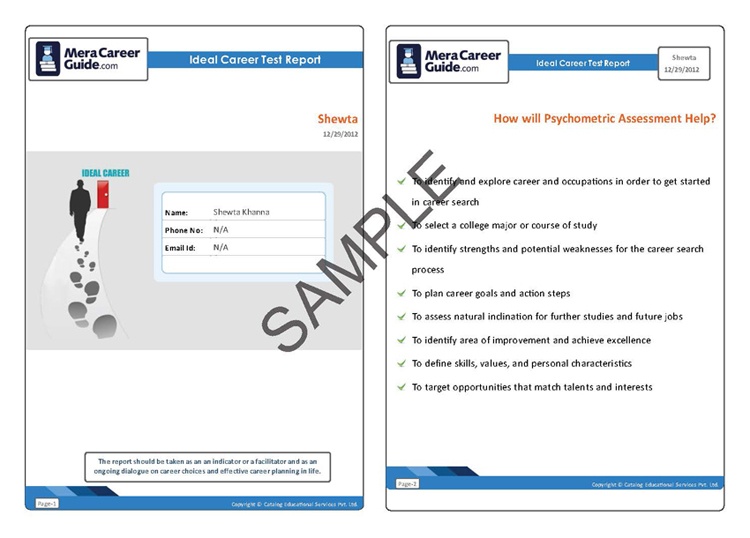 Every person of any age group who is interested in learning the best job alternatives for them should take the Ideal Career Test at CareerGuide. The test report will assist you in finding and exploring several career alternatives to help you get a head start on your job hunt or career move; it will also assist you in identifying strengths and potential weaknesses for better career planning. Aptitude, Interest, Motivation, and Personality are the four key ideas that the test is based on.
Aptitude: The logical reasoning ability, spatial ability, verbal capacity, numerical analysis, critical dissection, and other abilities are assessed in the aptitude component of the test. All of these abilities are necessary for everyone, regardless of their chosen career path. As a result, this component of the online psychometric test will reveal which elements of your personality are your strong suits and which areas require a little more attention.
Interest: The interesting part is based on American psychologist John L. Holland's Realistic, Investigative, Artistic, Social, Enterprising, and Conventional (RIASEC) theory. As a result, this part will inform you as to what type of career you are interested in and where you can find the most success.
Motivation: The motivation section lays out the reasons or causes that may inspire you to become a better version of yourself in every situation. Creativity, money, recognition, fame, money, stability, freedom, variety, respect, leisure, and so on are all on the list.
Personality: Everyone has a particular type of personality, which is important to understand because personality plays a role in choosing a job path and getting the most out of it. As a result, this part will assist you in determining your personality type from a list that includes factual, forceful, deliberate, spontaneous, passive, sociable, imaginative, isolated, and so on.
Based on these characteristics, one can easily understand oneself much better, and because the online psychometric test report is rather extensive and usually includes a graphical depiction of the output, one can easily decipher and so choose the correct career for oneself.
Professional skill index test
Online Psychometric Test is a scientifically designed tool that assists working professionals in determining their skill set or Professional Skill Index. A higher Professional Skill index indicates that a person is more likely to succeed in his or her chosen profession. The professional skill index test generates a customized report that will assist you in better understanding your Professional Skill parameter. As previously said, online psychometric test are unrelated to the topic matter, and hence the professional index examination is entirely focused on one's personality and basic behavioural skills. The report primarily aids in the matching of activity preferences, mental presence, specific real-life work scenario preferences, and a typical personality or image necessary for various professional skills.
The professional skill index is graded on a scale of one to ten, with ten being the best result. As a result, a high professional index aids recruiters in selecting the best applicant or opportunist for a specific defined position. A higher skill index indicates that a person is better suited for a specific job. A lower professional skill index usually indicates that the individual lacks basic employability abilities such as communication skills, poor time management, a lack of ethics, a lack of drive to work, a lack of integrity, and so on. The data from the psychometric exam is frequently shown graphically, therefore the report is quite detailed. This report could also be shown to the Human Resource Director or Recruiter to demonstrate one's abilities, increasing one's chances of being chosen for the desired position.
As a result, these two online psychometric tests are critical for every individual to have a better understanding of themselves and secure their desired job. This will also enhance one's self-confidence by removing fear and tension, paving the road for a bright future. Aside from these psychometric tests, CareerGuide has several other psychometric tests for people of all ages, from ninth grade to working professionals. Now is the moment to visit CareerGuide and look for a career that is right for you!