How To Become a Biomedical Engineer In India. Technology has spread its wings and reached all fields of life – electricity, communication, transportation, the kitchen and where not. One of the most significant transitions of technology is into health and medical sciences. Technology has helped improve longevity and quality of life by several folds. All this advancement has been possible because of biomedical engineers. Read this article to find out what exactly biomedical engineers do, and how you could become a biomedical engineer yourself.
What Is Biomedical Engineering?
Biomedical engineering combines the fields of medical sciences, healthcare and engineering to design and develop solutions to various healthcare problems through medical products, software and computer systems.
NIRF top engineering colleges 2023
What Do Biomedical Engineers Do?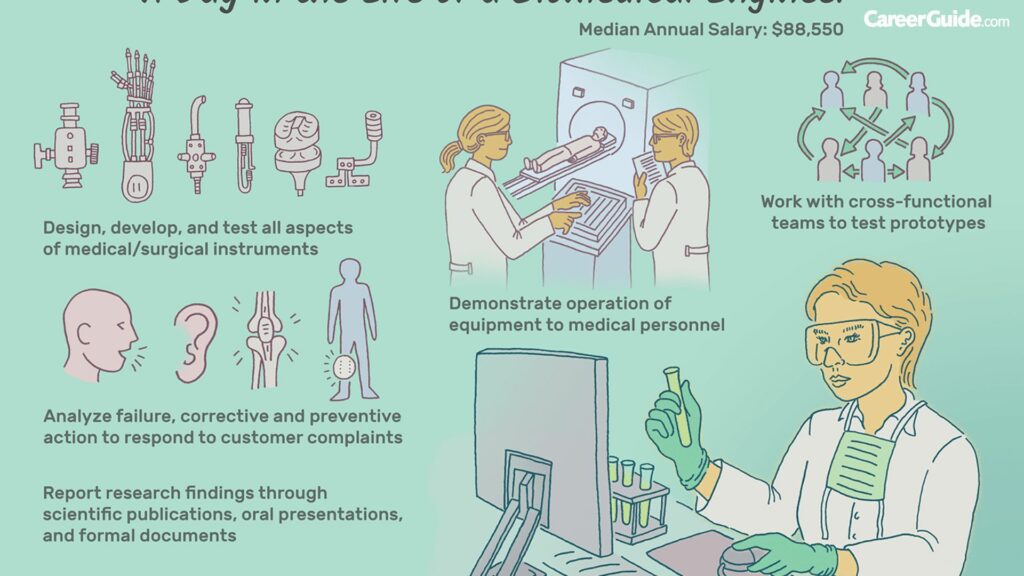 Design, develop, and test novel materials, technologies, and equipment using

computer software

and mathematical models
Programming electronics, creating and assessing prototypes, debugging issues, and redesigning the design until a feasible solution is found 
Consult with experts and manufacturers to ensure that a product's design is both feasible and economic
Maintaining and testing clinical equipment 
To ensure that requirements are addressed, engage closely with other medical experts such as physicians and therapists, as well as end-users (patients and their caretakers). 
Organizing medical product clinical trials 
To bring the product into the market, contacting marketing and other industry firms. 
Respond to technical questions from hospitals and general practitioners, as well as provide advice on new equipment. 
What Are The Qualifications To Become A Biomedical Engineer?
At 10+2 level, it is required to take science stream, with preferably Biology, mathematics, chemistry, and physics. Various national, state and intuitional exams like IIT-JEE, TS EAMCET, COMEDK UGET, BITSAT, VITEEE etc. can be taken to further pursue B. Tech or B. E. in Biomedical engineering. Then you could choose to continue your post gradation in the same.
If you want to continue into academia and research, it is required to get a Ph.D. with a specialization in biomedical engineering.
NIRF top engineering colleges 2023
What Are The Skills Required To Become A Biomedical Engineer?
Some of the important skills sets needed to become a biomedical engineer include –
A great interest in combining engineering and medicine to create solutions to various healthcare problems
knowledge about three-dimensional designing, spatial awareness, and computer systems
The capacity to develop efficient, practical and economically efficient and aesthetically attractive products 
The ability to combine a high level of technical expertise with creative ideas
Commercial awareness to assess the marketability of a product 
Excellent capacity to solve problems and to work under pressure. 
Good communication abilities in order to interact with a wide range of people 
Detail-oriented
What Are The Specializations One Can Take In Biomedical Engineering?
Bioinstrumentation – concerned with the creation and development of instruments and technology that assist in the diagnosis and treatment of illnesses. 
Rehabilitation Engineers create prostheses that help patients recover normal function in body parts that have been injured. 
Biomaterials engineers are involved in designing and developing materials that could be used in the human body. 
Biomechanical engineers are specialized in creating and manufacturing items that aid with internal body movements. Examples of such

biomedical products

are Artificial heart valves and joint replacements
NIRF top engineering colleges 2023
Medical Imaging Engineers are concerned with the design and development of technologies that enable internal examination of the human body to allow an accurate diagnosis of the body organ to be diagnosed.
Clinical bioengineers deal with implementing and operating medical products in hospitals, clinics and other healthcare facilities.
Orthopedic Bioengineer design and develop products related to bones, joints, ligaments, and muscles which may be used to replacement parts, aid in movement or both.
Cellular, Tissue, and Genetic Engineers study biological activity to better understand illness progression and create treatments or cures before they become fatal. 
Where Are Biomedical Engineers Employed?
According to the specialization chosen, biomedical engineers can be employed in the following sectors – 
Healthcare & medical sector
Biomedical device Engineering Firms
Biomedical Software development firms
Polymer Manufacturing Firms
Research Centers 
With more and more health conscious and awareness growing among general public, the demand for healthcare quality has also increased. Biomedical engineers help find solutions in healthcare through their innovative solutions.
NIRF top engineering colleges 2023
Frequently Asked Questions